Banco Popular USVI opens Facebook page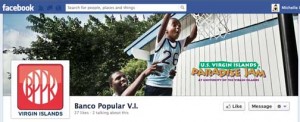 Banco Popular's U.S. Virgin Islands division has taken its relationship with customers up a notch by opening a new page in Facebook in the hopes of "engaging the community in a faster and more digital way."
To promote the page, Banco Popular is hosting a contest through which a "like" will enter the Facebook user into a giveaway of tickets to the "Paradise Jam," Nov. 16-24. The first pair of tickets will offer a VIP experience of "Paradise Jam" and the second one will serve as free admission. Winners will be notified Nov. 13.
"Banco Popular looks to connect with its public in every possible way. Facebook works as a perfect platform to continue these efforts in a digital form, adding value to the relationships it cultivates. Social media is a significant part of this time and we want to be a part of it," stated Antolín Velasco, senior vice president of Banco Popular's USVI Region.
With this launch, Banco Popular becomes the first bank in the USVI to establish itself in Facebook. The page will provide its visitors with financing tips, news, upcoming events, exclusive Facebook contests, and much more. Banco Popular will also use Facebook as a vehicle to communication and educate its customers.