OFG Bancorp launches digital site for annual report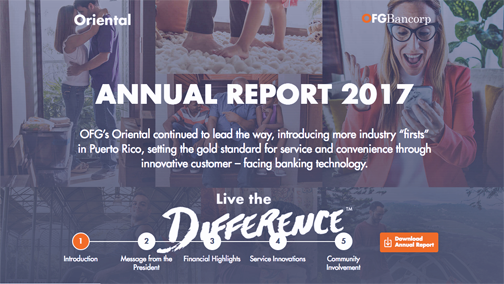 OFG Bancorp announced its first Digital Annual Report site, including a video message by its president. The site is in keeping with OFG's corporate vision of introducing digital banking channels in Puerto Rico to speed service for customers of its Oriental Bank.
The site features a video letter to shareholders by OFG President José Rafael Fernández and contains animated and downloadable summaries of OFG's 2017 financial highlights and service innovations, and PDFs of its social responsibility report and "wrap 10-K" print annual report.
"The marketing slogan for Oriental is Live the Difference — 'Vive la Diferencia'," said Fernández.
"We wanted to do something in keeping with this theme. This year, investors can learn about our performance, strategic initiatives and outlook in a more dynamic fashion than a traditional print report," he said.
"We hope it helps to communicate how Oriental is using faster and more convenient digital channels to provide banking, lending and wealth management services to our retail and commercial clients," Fernández noted.
"We also want to show how, six months after Hurricane María, Puerto Rico is moving ahead and has a lot of digital talent to offer," he finalized.