El San Juan Resort & Casino launching $40M upgrade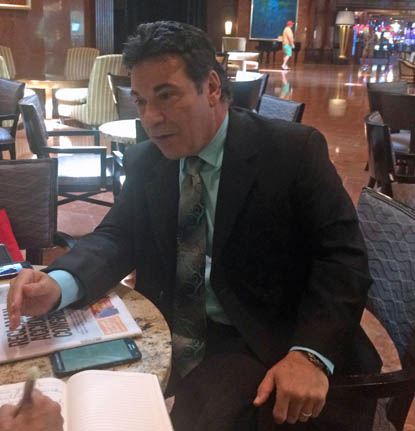 The new operators of the El San Juan Resort & Casino, Aimbridge Hospitality, will be embarking on a $40 million renovation and rebranding of the iconic property, slated to begin in April 2016 and be ready by next fall, the property's new General Manager Jeff Lesker said Wednesday.
Plans call for overhauling the beachfront hotel's 387 guests rooms and suites, public spaces and its historic lobby, which is known for its emblematic mahogany elements throughout.
"We think the number one iconic feature of this property is its historic lobby. We do intend to make it more contemporary in certain areas, where it won't tarnish that incredible historic value," Lesker said. "There will be lighting changes, and we'll replace the silver bar with something a little more fitting."
In July, asset management firm Fundamental Advisors LP announced that along with partners León, Mayer & Co., and Aimbridge Hospitality, it had acquired the El San Juan Resort & Casino, a Hilton Hotel from an affiliate of Blackstone. The terms of the deal were not disclosed.
Lesker, who officially took over his post on Sept. 1, said the Isla Verde resort will remain open during the remodeling, for which Aimbridge has hired New York-based design firm Jeffrey Beers.
The hotelier brings with him a track record of hospitality experience, managing luxury hotels and resorts, including prestigious properties such as the Radisson in Aruba and St. Martin, and several other Wyndham resorts and hotels throughout Arizona, California and across the US and the Caribbean.
He is recognized as a specialist in transforming properties from both a service and guest satisfaction as well as financial successes.
Another area of the hotel that will be given attention is the casino, which was remodeled recently but will likely be integrated into the renovation, he said.
"The scope of work at the casino is not yet defined, but it will get some attention as part of the redesign, as well as it related to operation and service," he said.
The El San Juan Resort & Casino has 550 employees, of which 75 are assigned to run the 7,500 square-foot casino.
"We have plans to operate the casino in what we believe will be a more successful and profitable manner and if we're able to do that, we'll be able to run it as an amenity for guests and visitors going forward," he said, acknowledging that casinos are an expensive part of the operation.
"Casinos are expensive business models. They're typically staffed with senior union employees, so the business model itself is a recipe for concern and it requires that you have a very strategic approach for profitability or you won't have any," he said.
"There's no doubt that is why there have been so many casino closings [in Puerto Rico.] But we want the casino to continue to operate because it's an important element to Puerto Rico tourism," Lesker said.
In recent years, several casinos have shuttered due to economic pressures, including those formerly run by the El Conquistador Resort in Fajardo, the Ambassador Plaza in San Juan and most recently, the Sheraton Old San Juan property.