Claro Puerto Rico volunteers clean up beach with Scuba Dogs Society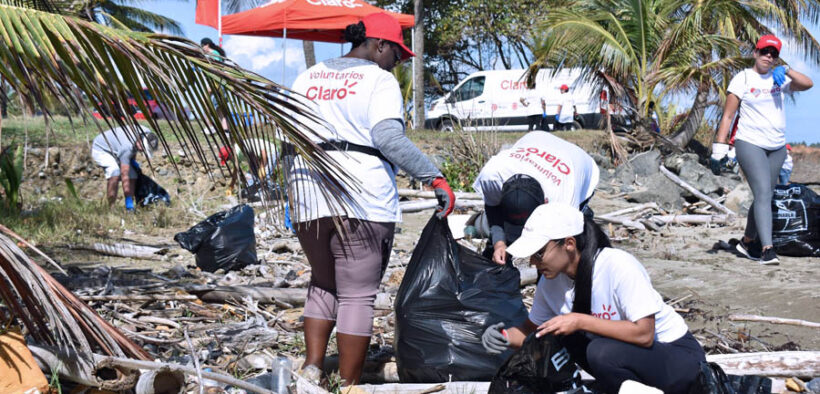 In commemoration of Earth Day, Claro Puerto Rico announced a social responsibility agreement in partnership with Scuba Dogs Society (SDS) in which 45 volunteer employees of the telecom company participated in a cleanup event at Levittown Beach.
On April 15, the group collected 1,553 pounds of garbage within a 3.1-mile perimeter.
"We're very honored to participate and involve our employees in educational activities like these that raise awareness about the importance of caring for and preserving the environment," said Claro Puerto Rico CEO Enrique Ortiz de Montellano.
"For our company, the issue of social responsibility and sustainability is very important, and it becomes even more relevant during this month, when we seek to raise awareness among humanity about the problems generated by environmental pollution," he said.
In addition to cleaning the beaches, volunteers collected information on the waste found in the area. Plastic bottles, foam pieces and tires were the most commonly found items, organizers said.
"We applaud the commitment of the entire Claro work team with such an essential initiative. Every time we clean up and rescue a natural area, we not only give that area back its beauty, but we also give back to the community to be able to enjoy it," said Sandra Schleier, director of the Scuba Dogs Society's "A Toda Costa" program.
"This new interaction of people with their environment allows communities to get to know these spaces, enjoy them, love them, thus increasing their sense of belonging and the intense desire to take care of them," the marine biologist said.
Claro has a volunteer network of more than 50 employees who dedicate their free time to help communities in difficult times. As part of their 2023 volunteering, they will continue to support charitable entities and causes, company officials said.
Earth Day is celebrated every April 22, seeking to raise awareness about the importance of preserving the environment. In addition, it encourages the protection of natural resources and makes a call to action so that each person contributes to the protection of the planet.
Scuba Dogs Society is a nonprofit organization that has been dedicated to environmental protection in Puerto Rico since 1993, mainly through educational experiences such as cleaning up coasts, beaches and natural areas, as well as training citizen scientists.