Colombian power co.'s look to Puerto Rico for growth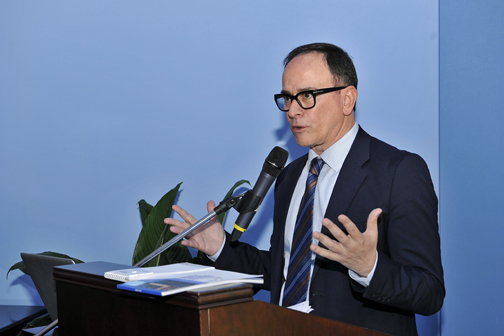 A delegation of Colombian electrical industry executives traveled to Puerto Rico last week looking to establish business relationships with local companies and set the foundation for a possible expansion into the United States via this territory.
During the visit, executives from Colombia's Matrimol SAS, IMPUCHE, ROY Alpha, and Alutrafic LED had one-on-one meetings with representatives from 17 local companies that expressed an interest in their products through a survey conducted prior to the commercial mission, said Carlos González, director of Proexport Caribe, which organized the trip.
"The main market for these companies is the United States. Because Puerto Rico is a commonwealth governed as the U.S., it makes it attractive for these companies to come to Puerto Rico," he said. "They make supply products for the electricity sector. People need to consume electricity and that in turn generates a need for electricity supplies. We capitalize by looking at why our products are different."
Among the local companies that participated in the meetings were: Tecno Lite, Martelec, Ceiba Electrical, Electrocables, Empresas Nido, All Tools, Warren del Caribe and Roger Electric. The group of South American executives also visited the facilities of the Puerto Rico Electric Power Authority, to meet with the agency's buyers to get a sense of how public purchases are conducted, he said.
Colombian electrical goods are beneficial for Puerto Rican businesses for several reasons. The country provides a flexible environment that allows for quick responses to orders, clearance times are much shorter — it takes three days to get from port to port and two hours if urgent to ship by air — and product quality is superior to the product from the Orient, for the most part, González said.
The total amount of business transactions generated during the trip to Puerto Rico was not available. However, prior to landing in San Juan, the group of Colombian companies visited the Dominican Republic, where they secured some $200,000 in sales, he said.
Colombia has a diverse portfolio of products that it exports to Puerto Rico, which represented about $124 million in intake for the country in 2012. That figure excludes oil, coal, coffee beans, and ferro nickel products shipped to the island, he said.
Proexport has been working with Colombia's export sector for the better part of the last two decades, in some cases initiating deals and in others, providing assistance to see the deal through.
Commercial activity has been picking up between Colombia and the United States since the signing of the Free Trade Agreement in May 2012. As a result, González said more Colombian companies are looking toward U.S. jurisdictions, such as Puerto Rico, to establish operations from which to sell their goods.
So far, the island has drawn Colombian food, editorial, metalworking, chemical and apparel companies, González said.