Construction starts on $405M 'The Mall of San Juan,' formerly known as Plaza Internacional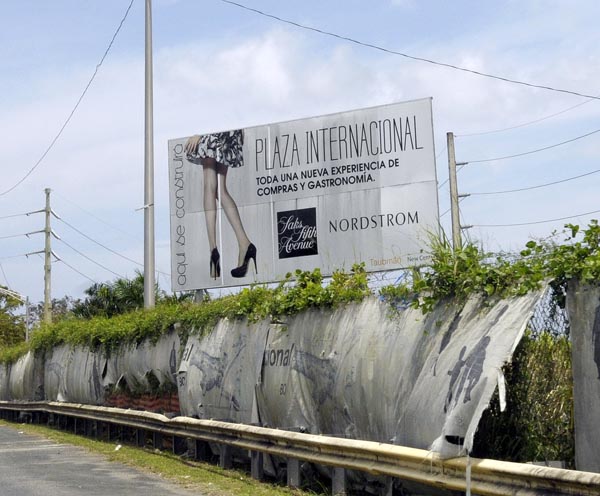 Taubman Centers, Inc. announced Thursday that construction will begin this summer on the $405 million, 640,000-square-foot luxury shopping center formerly known as Plaza Internacional, now re-named The Mall of San Juan, located just off the Teodoro Moscoso Bridge in San Juan.
The Mall of San Juan will be a state-of-the-art, two-level, enclosed mall featuring a 138,000-square-foot Nordstrom and a 100,000-square-foot Saks Fifth Avenue.  It will be the first upscale mall on the island and the first and only location in Puerto Rico for both Nordstrom and Saks.  It is anticipated that the project will also include a Crowne Plaza hotel and casino, developed by the current land-owner, New Century Development, Inc.
The shopping center will include more than 100 specialty stores and restaurants, approximately 60 percent of which are anticipated to be new to the island. The mall is slated to open in late 2014.
"We are proud to bring a true luxury shopping experience to Puerto Rico," said Taubman Chief Operating Officer William Taubman.  "We believe that, in keeping with its name, The Mall of San Juan will become the place to shop and dine on the island for residents and visitors alike, keeping local shopping dollars on the island, and capturing additional tourism dollars for the Commonwealth."
"We are excited about The Mall of San Juan and what it represents for Puerto Rico in terms of jobs, economic development, and new shopping options for our community," said Frank Tragolo, partner, New Century Development. "It will surely add new energy to San Juan overall."
The Mall of San Juan is designed to reflect the rich culture and heritage of San Juan, but with a fresh, contemporary twist, mall developers said.
The architecture will have a "timeless character and utilize quality materials and finishes to enrich the shopping experience. Customer-friendly amenities along with easy parking and access will enhance the comfort and convenience of visitors," the company said in a statement issued Thursday.
Located adjacent to the San Jose Lagoon where the former Villa Panamericana housing complex one stood at the south end of the Teodoro Moscoso Bridge, the development is just two miles from the Luis Muñoz Marín International airport.
"We are thrilled to bring Saks Fifth Avenue to Puerto Rico and to The Mall of San Juan," said Steve Sadove, chairman and chief executive officer of Saks Incorporated.  "We look forward to delivering our distinctive, world-class selection of luxury brands and memorable service experiences to the residents of and visitors to the island."
"The Mall of San Juan will be a very exciting shopping destination for Puerto Rico and we're glad we're a part of it. Our first priority is to serve the local island customer with a Nordstrom store of their own featuring great quality and luxury fashion for everyone in the family. It's an added bonus to be able to serve visitors to Puerto Rico too," said Erik Nordstrom, president of stores for Nordstrom.