Bahía Plaza, retail tenants announced for Paseo Caribe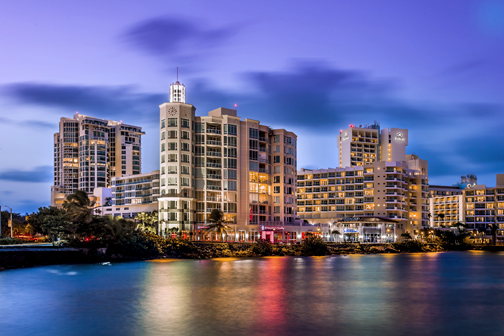 CPG Real Estate, the company tasked with developing the upscale Paseo Caribe project in San Juan, announced Wednesday the arrival of high-profile retail tenants, as well as the availability of residences at Bahía Plaza, the newest of the three towers at the complex.
The additions to the Paseo Caribe retail center that will debut in the near future include:
Martin Louzao, owner and chef of Condado's Cucina Abierta, will unveil Touro, an al fresco tapas restaurant overlooking the Condado Lagoon;
Aaron Stewart will open a new version of his Home store offering custom interior design services;
The founder of White House/Black Market will bring two new retail concepts to San Juan, called BoHo and BoHo Nation. These stores will feature bohemian-style apparel for upscale, fashion-conscious shoppers;
The creative minds behind Lu will introduce a new women's fashion concept entirely unique to Puerto Rico;
The owner of Italics Couture, a jewelry emporium in San Juan, will announce a new, high-end jewelry boutique; and,
The high-end Orma shoe retailer, currently located at the Caribe Hilton, will create a brand-new store concept for Paseo Caribe.
The new brands will join the first tenants signed by CPG in 2014, Rosa Mexicano, Fogo de Chão, and Blue Martini, which is slated to open this month.
Meanwhile, the launch of Bahía Plaza follows the introductions of Caribe Plaza and Laguna Plaza, Paseo Caribe's first two residential towers. Residences in those two towers were in high demand from the start, and have now completely sold out, CPG executives said.
"Paseo Caribe has the potential to become San Juan's new city center," said Jacob Manevich, vice president of leasing for CPG Real Estate. "A vibrant central destination is something the city hasn't really had — and the combination of a stunning location and an unprecedented mix of shopping, dining, and entertainment makes Paseo Caribe a natural magnet for tourists and locals as well as residents."
Bahía Plaza offers urban-inspired loft and flat-style residences, from approximately 915 to 2,820 square feet. Each of the one-, two-, and three-bedroom units features a terrace with sweeping views of the ocean, lagoon, or marina.
The Bahía Plaza residences are designed for "today's way of life" and are ideal for entertaining, with spacious, inviting living and dining areas and oversized, state-of-the art kitchens.
"Residents will enjoy a highly curated, luxury lifestyle, including concierge services and state-of-the-art security and life-safety systems," CPG said.
CPG is currently finalizing the design for a revolutionary new "mercado" concept for Paseo Caribe, to occupy 15,000 square feet of the retail and entertainment center, featuring a gourmet retail and dining marketplace with the purveyors of local and artisanal products, established culinary brands, and up-and-coming chefs.
"The launch of the Bahía Plaza flat and loft residences and the expansion of our retail and dining offerings represent the culmination of our exciting Paseo Caribe project," said Sam Kirschner, partner in and COO of CPG Real Estate. "Residents and visitors will see why Paseo Caribe is the ideal, fully-integrated urban retreat — a place to live, work, play, entertain, and luxuriate."