Puerto Rican culinary student wins int'l cooking contest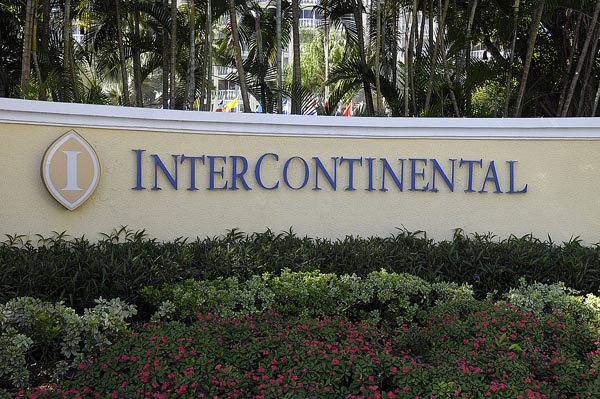 The InterContinental San Juan and Víctor Bonano-Ortiz, a culinary student at the Jose A. (Tony) Santana International School of Hospitality and Culinary Arts recently won the hotel brand's "Ultimate Culinary Clash," a cooking competition and scholarship fundraiser for culinary students.
With the assistance of InterContinental San Juan Executive Chef Efrain Cruz, Ortiz received top honors against four other culinary students paired with InterContinental properties in the contest winning a $5,000 scholarship from the hotel chain. The competition took place, May 15 at the InterContinental San Francisco hotel.
Eight culinary personalities, including Chef Todd English, restaurateur of the InterContinental New York Times Square hotel's Ca Va Brasserie, judged the competition and scored each dish on taste, creativity and presentation.
Winning student Ortiz impressed the judges with his dish Apple Sage Roasted Pork Belly with Butternut Squash, Exotic Mushrooms Torteloni, Petit Pois and Hickory Smoked Pork Jus, the hotel chain said
"His creation will be featured in InterContinental hotel restaurants across the U.S. and Puerto Rico the week of June 2 and on the InterContinental Kitchen Cookbook iPad app, which houses a collection of inspiring recipes created by InterContinental hotels' executive chefs from around the world," hotel officials said.
"This young chef was extremely enthusiastic and brought a Caribbean flare to San Francisco," said English. "He created an interesting variation on the classic surf and turf, and the pork belly melted in your mouth. It was also a very beautiful dish."
Showcasing the brand's commitment to culinary excellence, the Ultimate Culinary Clash serves as an opportunity for the InterContinental brand to help inspire the next generation of culinary stars by giving exceptional young talent the stage and support to progress their culinary training in a meaningful way.
Over the course of five months, five InterContinental properties across the United States and Puerto Rico held local competitions with culinary students.
The first place winners from each hotel received the opportunity to move forward to the Ultimate Culinary Clash in San Francisco and also have their dish featured on their local hotel restaurant's menu for a night.