Delta gearing up to open new $1.2B JFK terminal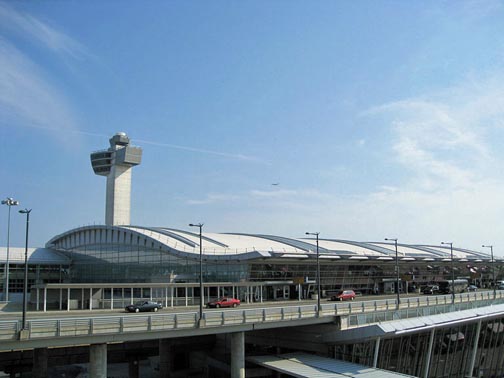 Delta Airlines is about to make a big landing in New York's John F. Kennedy International Airport this week when it will officially inaugurate its new state-of-the-art facility at Terminal 4, which it has been expanding an upgrading since November 2010 through a $1.2 billion investment.
"May 24 will be an historic day for Delta and the city of New York as we officially open the new JFK Terminal 4," said Gail Grimmett, Delta's senior vice president – New York. "The new state-of-the-art T4 has customer conveniences that make it a more efficient international hub and unique amenities — like the 24,000 square foot Delta Sky Club and Sky Deck rooftop terrace — that our customers will enjoy."
Terminal 4 at JFK International Airport is one of the "most modern, efficient, spacious and unique terminals in the New York area" serving nearly 30 international and domestic airlines carrying 12 million passengers, said JFKIAT LLC, a subsidiary of NV Luchthaven Schiphol, a Dutch company based in Amsterdam. JFKIAT is the only private, non-airline company to operate a terminal at JKF through a public-private partnership agreement.
"The project is the cornerstone of the airline's huge expansion and facilities upgrades in New York. Up until now those efforts have been more visible at LaGuardia Airport, where Delta recently took over much of the US Airways terminal and added over 100 daily flights following the slot swap deal between those two airlines," JFKIAT said.
However, JFK has been Delta's New York hub for many years, occupying what have become very cramped quarters in Terminals 2 and 3. To remedy its growing pain problems, the carrier opted to add nine gates and expand capacity at Terminal 4, to where it will shift its international operations.
"The nine extra gates being added to the southwest end of the terminal's Concourse B will funnel an additional 5 million passengers through the already well-used terminal. To handle those extra people, the terminal is getting more security screening lanes, more customs and immigration capacity and more check-in desks," JFKIAT said.
The new gates and additional space will span about 491,000 square feet, including the new Delta Sky Club and Sky Deck rooftop terrace.
"When this terminal was built, the thinking was that before an international flight, passengers would go to the airport with their family a few hours early, eat some dinner and do some shopping, and then say their goodbyes before boarding," said project director Harry Olsen.
"But the security screening process has changed significantly since the terminal opened in 2001 — four months prior to the 9/11 attacks," he said. "That means customers are now far more anxious about getting through security and to their flight on time, so they want to get through the checkpoint as soon as possible."