$89M District Live! project breaks ground in San Juan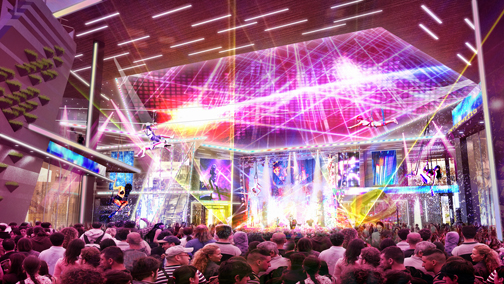 District Live! — an $89 million entertainment project being developed next to the Convention Center in the Miramar sector of San Juan — was announced Wednesday by developers PRISA Group. The project will be ready by Spring 2019, and will create 3,383 jobs.
The development "will change the scope of the Convention District in San Juan, transforming it into the main and most modern entertainment center on the island," developers said.
"District Live! will be an innovative entertainment center with world-class leisure activities, that will capture the energy, joy and gusto of the Puerto Rican people," said Federico Stubbe, Jr., President of PRISA Group.
"It is a demonstration of what we are, how we live, a reflection of who we are. District Live! is a stage on which to showcase the authentic and varied elements that make us unique," he said.
District Live! will feature an entertainment venue that holds up to 6,000 people, depending on the format. The venue will sit on an area of 105,000 square-feet and will be operated by AEG. It is expected to host a wide range of events, including concerts, banquets, DJs, fashion shows, festivals, award ceremonies, corporate events, musical spectacles, circuses, and school and university graduations, among many others.
"This new venue for live entertainment is the perfect anchor for what we believe will be the region's most vibrant and popular settings for events, conventions and performances of all types," said Bob Newman, president of AEG Facilities.
"Situated just steps from one of the most picturesque waterfronts as well as a thriving convention center and nearby urban core, District Live! will instantly become one of the area's most visited destinations for both residents and tourists alike," he said.
AEG is one of the world's main sports and entertainment promoters, and manages more than 100 prominent venues around the globe, including the STAPLES Center (Los Angeles, CA), the PlayStation Theater (Times Square, NY), the Coliseum at Caesar's Palace (Las Vegas, NV), the MasterCard Center (Beijing, China), Ericsson Globe Arenas (Stockholm), Sydney International Convention Exhibition, and Entertainment District (Australia), Mercedes-Benz Arena (Berlin) and The O2 in London.
"This venue is being created to address a need expressed by local promoters and producers, who seek a medium-sized venue, an intermediate between the Puerto Rico Coliseum and the Fine Arts Performance Center. Now, with District Live! they will have a venue that is flexible enough to adapt several formats, as the event requires," Stubbe explained.
District Live! will also feature a 170-room hotel under the lifestyle brand of the Marriott Corporation. The hotel will offer approximately 6,000 square-feet in meeting rooms and 40,000 square-feet for public areas such as bars, restaurants, swimming pools and outdoor terraces. The hotel brand will be announced "soon," PRISA said.
The complex will also integrate an 8-theater movie cinema to be operated by Caribbean Cinemas, including a CXC (Caribbean Cinemas Extreme) "Premium Large Format" theater. The theaters will offer numbered seating, and reclining seats with foot rests. The movie theater complex, which can hold 800 people, will also feature a restaurant, bar and lounge area.
"With this project we have procured the support of local businesses that share our interest in developing an authentic and fun project. Puerto Rico is synonymous with party, food and music. We are a crucible of talent and now is the time to show that off to the world and share it with our people as well," Stubbe said.
"This center will be an axis of entertainment for tourists, a magnet that will draw conventions, drive events and create jobs. We have shored up the will of successful companies headquartered in Puerto Rico to get to that next level in the world of entertainment," Stubbe added.
The partners in the project are PRISA Group, McConnell Valdés Consulting and the Convention District Authority. Caribe Hospitality enters as a partner in the development of the hotel. The base cost of the project is upwards of $88.9 million and it is expected that the tenants will invest an additional $15 million, approximately, in their respective facilities.
District Live! has a combined financial backing of $42.4 million from Banco Popular de Puerto Rico and Oriental Bank, $3 million from Banco Cooperativo de Puerto Rico, $8 million from the Economic Development Bank of Puerto Rico, and a total of $27.7 million in capital from investors and the developers.
Other elements planned for District Live! is a Puerto Rican rum micro distillery to introduce visitors to the craftsmanship of rum and its wide range of flavors; Hacienda San Pedro will offer Puerto Rican coffee; an 18,000 square-foot night-day discotheque, similar to what one would find in Las Vegas; and District Live Studios, a radio and television production facility that will integrate artists with visitors to the entertainment center. The project will also offer the "Kidz Zone," a place for children of all ages to enjoy safe and modern entertainment.
District Live! will also partner with the Toro Verde company to create the first urban zip line on the island, in which people can glide over the planned 44,000-plus square-foot public in the project's central plaza.
"District Live! completes the offering of the Convention Center, which makes viable its potential as an important destination in the worldwide realm of conventions, making it a first-rate entertainment area to be enjoyed by locals and foreign visitors," Stubbe said.