Echar Pa' Lante launches entrepreneurship project in K-12 schools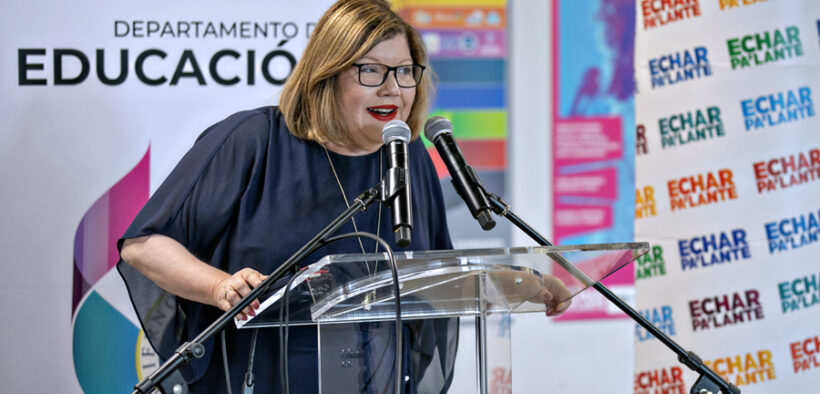 With the goal of transforming Puerto Rico's schools into entrepreneurial communities and creating innovation hotbeds that serve as the foundation for the sustainable economic development of Puerto Rico, Popular Inc.'s Echar Pa'lante recently launched its Toolkit for Entrepreneurship Project, known as STEP.
This initiative was unveiled at the Centro Criollo de Ciencias y Tecnología del Caribe in Caguas with the participation of more than 200 people.
The STEP initiative's mission is to empower future entrepreneurs through a curricular review that integrates entrepreneurship and innovation across each grade, from kindergarten to senior year in high school, starting this school year.
This initiative is promoted by Popular and is backed by experts from the Echar Pa'Lante Multisectoral Alliance, which also includes seven of the primary university institutions on the island, along with various private sector and nonprofit organizations, officials said.
The effort is the first of its kind in Puerto Rico, involving leaders from the Puerto Rico Department of Education as well as representatives from the Association of Private Schools, the Diocese of Catholic Schools and the Alliance for Alternative Education.
"This is an important moment for education in Puerto Rico. It's the moment in which we begin a transcendental transformation that the island needs in the educational process of our children and young people," said Gloria Viscasillas, vice president of Economic Development Programs at Popular and integration leader of the Echar Pa'lante Multisector Alliance.
"This initiative is carried out considering the trends of the future of work and the economic demands that the new generations will face," said Viscasillas.
The initiative aims to update the curriculum currently in use by the Department of Education and private schools, empowering teachers to develop entrepreneurial skills in children from a young age.
Echar Pa'lante's partners in entrepreneurship and innovation education worked with the Department of Education to develop a model for K-12 curriculum transformation that integrates essential skills and competencies for the future across all subjects and grades.
The STEP initiative also focuses on developing essential skills such as communication, collaboration, change management, critical thinking, innovation and creative problem-solving. It is coupled with knowledge of basic economics and management of personal finance management at the school level, areas identified as not mastered by students as they transition to university stage and begin their careers.
"The suggested model is aligned with the academic standards for each grade and subject. Additionally, the suggested exercises reinforce reading and math to complement the PRDE's efforts that prioritize core disciplines," Viscasillas said.
"We're confident that the transformation of the curriculum and the practice inside and outside the classroom of these new skills will give our students the tools to be able to manage the challenges of their communities through self-reflection, self-direction and self-management," she added.