Economy strangling P.R. nonprofits, United Way says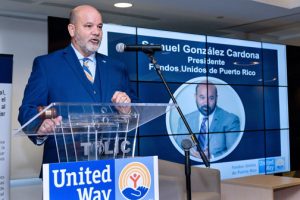 In Puerto Rico's embattled economy, everyone is at risk. Nonprofit organizations are no exception.
To survive, organizations are cutting staff, services and administrative costs, maxing out their credit cards and even borrowing from their board members.
Those are among the findings of a recent informal survey conducted by United Way of Puerto Rico, a coalition of 131 charitable organizations.
"There was nothing surprising [in the survey] since we constantly receive financial reports and do monitoring. What does worry us is that there is too much dependence on government funds," said United Way President Samuel González.
According to United Way affiliates, the government is their main provider of funding but this resource is becoming ever more unreliable, with 62 percent of organizations reporting late or overdue payments.
In other salient findings, 87 percent of affiliates have experienced a drop in revenue that in the case of 6 percent of organizations amounted to more than half of their financial resources.
For 76 percent of affiliates, lost income was between 15 percent and 25 percent, or more, of total revenues. Another 18 percent said it was between 35 percent and 45 percent, or more.
"Each year gets more difficult," González said, going on to anticipate that 2017 will be "more challenging."
United Way conducted the survey to ascertain how affiliates are coping and "detect the possible financial risks of nonprofits at the start of Fiscal Year 2017."
Out of 132 affiliates at the time, 122 replied to the survey for a 92.4 percent response rate. The survey, carried out this summer, revealed that the "island's new economic scenario" is having an adverse impact on United Way affiliates.
As a result, organizations have reduced employees and service hours, are late in meeting payroll payments, and are negotiating payment plans with the IRS to cover such obligations as social security taxes.
Nonprofits serve range of communities
The social organizations that make up the United Way family provide all kinds of help to constituencies like the young, the elderly, and the homeless. According to the survey, the majority (55 organizations) reported revenue of between $100,000 and $499,999.
Revenues of 28 organizations were between $1 million and $2.9 million and between $500,000 and $1 million for another 21 affiliates. Some 11 affiliates operated with less than $100,000.
Only 7 had revenue of or in excess of $3 million.
The five top sources of funding for affiliates are the state government (40 percent); nonprofit foundations (23 percent); corporate foundations and corporations (16 percent); fundraising activities (15 percent); and the federal government (6 percent).
Owing to the economic crisis and the government's own financial troubles, González said the United Way has turned its focus on empowering affiliates.
Late last year, in coordination with the Puerto Rico Planning Board, the agency charged with certifying federal grant solicitors, the United Way held trainings on how to prepare and submit federal proposals. Representatives of more than 100 affiliates attended the two workshops, González said.
Also last year, the United Way held its first Community Leaders Convention, which tackled such themes as operational budgets in times of crisis, crisis management, social issues lobbying, and myths regarding fundraising in Puerto Rico.
Lawyers were also on hand to discuss contract law, an area of concern to González as "many organizations think that labor laws don't apply to them because they are nonprofits."
When an employee is laid off, an organization may not follow due process and thus run into trouble, he said.
González said the United Way will be working on finding new sources of funding for itself and its affiliates.
With individual donations making up 70 percent of its funding, the United Way has been hurt by the loss of some 20,000 donors over the past decade as a result of the island's long-running recession and the mass exodus of Puerto Ricans to the states.
The 130,000 employees currently signed up through payroll donations are filling the slack by giving a little more "so that organizations can keep going," González said.
He expects total donations this year to reach around $9 million.
Another 20 percent of United Way revenue comes from matching funds from corporations and 10 percent from administering a federally funded abstinence program run by the Puerto Rico Health Department.