Educator: Tech alone isn't answer to better learning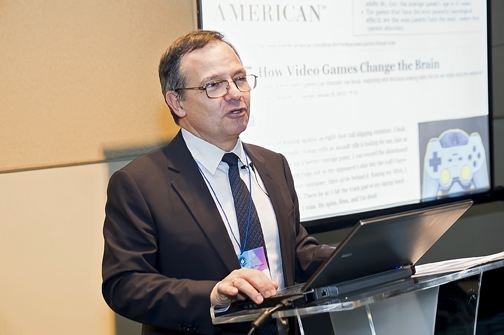 Information technologies and communication act as great amplifiers: if the education system is efficient, they improve it, and if it is inefficient, they make it worse, because the challenge of education today is to personalize education. So said Augusto Ibáñez, corporate editorial director of Spain's Fundación SM, who was recently on the island, invited by the Puerto Rico Association of Private Education.
"There is a widespread view that our schools, as we know them, are in crisis. The school came to homogenize and the classroom structure, methodology, and age grouping, clearly served the purpose," Ibáñez said. "In this model everybody had to learn the same thing at the same pace, and were evaluated by the same examinations."
"But the big challenge now is called diversity and to address it, schools must accommodate different types of intelligences, rhythms and learning styles. You have to personalize instruction. The key is a new student-centered model," he said.
He also emphasized that much of the content taught in classrooms today becomes obsolete in a few years so the focus must be on the essential, that which does not expire and serves to lay the foundations of learning throughout life.
"The mission of the teacher is obviously no longer to transmit knowledge but to instill judgments and values in students, which are essential to knowing how to act in an ethical, responsible and caring way in a complex world," he said.
In this context, he said information technology and communication can help open schools to the world. However, their extensive incorporation at all levels of education in recent years has generated results far from expectations.
"We have made huge investments to equip the centers technologically, but we have no evidence to show that information and communications technologies have promoted substantial changes in learning outcomes or act as catalysts for the change that the school needs to adapt to the challenges of the information society," Ibáñez said.
"Why is this happening? Largely for the implementation model: schools usually fit the new into the existing model, such as replacement or support of what it has already been doing, and this is not enough to generate a genuine transformation," he said. "Thus, information and communications technologies act as a great amplifier: if the system is efficient it improves it, and if it is inefficient, it makes it worse."
Meanwhile, Association of Private Education President Carmen Zoraida Claudio emphasized that technology alone will not change all that much, but in the service of a good educational project it can generate a huge transformation.
"Therefore, innovations should not be introduced from the point of view of technology and its possibilities, but from the educational project and its needs," she said.
But properly used, technology makes possible what wasn't before: the creation of true learning communities where traditional schools do not go — paying specific attention to the needs of each student, she said.