ESJ Towers rebadged as ESJ Azul after $12M facelift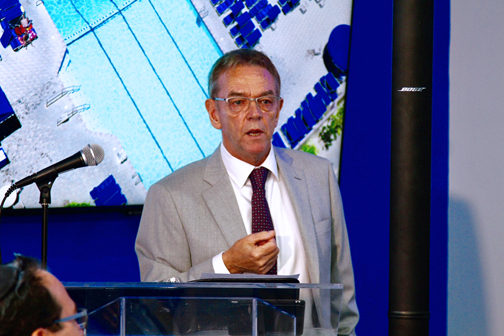 ESJ Towers, located in the municipality of Carolina, has undergone an extensive six-month renovation to the tune of $12 million led by travel industry veteran Keith St. Clair. After the renovation that added approximately 30 direct employees to the roster  the property has been re-branded as ESJ Azul.
The collection of properties now branded as ESJ Collection include the new ESJ Azul, The Noir and Verde, which in aggregate will create approximately 1,000 new jobs according to a statement from the Puerto Rico Tourism Company.
"Our vision is to create a number of ESJ hotels in Isla Verde and recreation and entertainment spaces as well," said St. Clair.
He declined to give more specific information, saying that the contracts "are being completed and done." St. Clair said he would be ready to announce the "next stage of the ESJ Collection" in 30 days.
The ESJ Azul has 170 timeshare rooms out of 450 total rooms. The property has 5,000 timeshare members and he expects that number to more than double to 11,000 once the next two properties are developed. Timeshare members tend to be families that drive repeat business," the executive said.
Last summer, St. Clair headed an investment group that acquired the ESJ Towers and quickly subjected the 40 year-old property to an extensive renovation of the building and its grounds, which included hallways and landings on all 17 floors, game room, lobby bar and lounge area and a new hospitality center.
The changes included creating an entrance from the lobby directly to the beach with additional landscaping enhancements to allow for unobstructed views of the ocean and the beach.
"I want to make a difference, not just in the renaissance of Isla Verde but of Puerto Rico," said St. Clair, who went on to suggest renaming the Isla Verde area as Isla Verde Beach, comparing it favorably to Venice Beach, California.
"I am living in Isla Verde, building in Isla Verde and investing in Isla Verde," said St. Clair, who received an Act 22 decree in September 2015.
"Keith pays a lot of taxes, his operations pay a lot of taxes and employ a lot of people," said Economic Development and Commerce Secretary Alberto Bacó.
"He is a visionary and a visionary with capital", something that Puerto Rico needs, Bacó added.
"I am a young Puerto Rican, an old man, but a young Puerto Rican," quipped St. Clair.