Fairmont El San Juan Hotel: An oasis in the heart of Isla Verde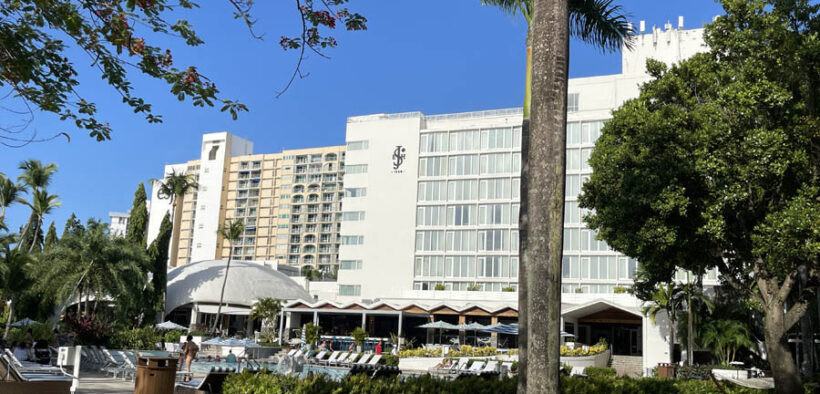 The Fairmont El San Juan Hotel has been recognized as the No. 1 hotel in the Caribbean and Central America by Condé Nast Traveler Reader's Choice in the Caribbean and Central America category and one of the best hotels in Puerto Rico by Travel+Leisure. It is not surprising as it is a unique resort that combines natural beauty, top-notch mixology, fine dining, renovated rooms and a nonstop entertainment schedule.
Located on the award-winning Isla Verde beach, the Fairmont El San Juan Hotel stands as one of Puerto Rico's most iconic destinations, where the energy of the city and serene ocean views come together.
The hotel artistically combines elements from the past, present and future. If its walls could talk, they would recount stories spanning generations. Every corner captivates its guests with island hospitality, décor steeped in history, innovative cuisine, proximity to the best places to visit in San Juan, and nightlife that captures life's greatest moments.
The hotel's culinary journey begins at Caña, where the San Juan of yesterday and today is celebrated through international cuisine prepared with the freshest local ingredients. Dishes blend authentic Puerto Rican flavors perfectly, complemented by innovative island-inspired cocktails. Guests can choose between a covered terrace seating to enjoy a cozy atmosphere by the pool, or inside the restaurant for a charming experience.
Caña's menu features tapas-style appetizers; entrees spanning beef, seafood and vegan selections; side dishes; and decadent desserts. An extensive wine and liquor list ensures the perfect pairing with every meal.
Guests can enjoy breakfast, lunch and dinner daily, as well as a Sunday brunch buffet with unlimited mimosas and Bloody Marys.
If the occasion calls for an elevated experience, there is also Riva, with a Mediterranean-style fine dining menu, and Meat Market San Juan, a top-tier steakhouse. A more casual meal can be enjoyed at Il Sole Trattoria with a traditional Italian menu or poolside at the Banyan Tree Grill.
There is also more to be found at El San Juan Beach Club, which is located at the pool area and offers selections from a menu designed to enjoy under the sun and in a bathing suit. Options include a lobster grilled cheese that is hard to forget and a fresh fruit plate to cool down on a hot summer day.
The coffee of the day can be found at Starbucks or at El Bistro, which also offer pastry options. To enjoy a festive atmosphere alongside live entertainment from The Lobby, guests can choose from a menu of sushi and tapas to accompany their cocktails.
Emphasizing both fun and elegance as one of the main entertainment venues in Puerto Rico, The Lobby provides a daily music program throughout the week. The atmosphere is filled with energy with the flavor of jazz notes, boleros and even dance music. Also there is the Foxwoods El San Juan Casino, offering local players and tourists new gaming and entertainment experiences through its 306 machines and 14 tables, including blackjack and roulette.
Different levels of luxury accommodations
The Fairmont El San Juan Hotel offers various luxury accommodations. Its elegant rooms, designed by Jeffrey Beers International, include the Oceanside or Oceanview Villa rooms; the Banyan Bungalows, named in honor of the garden's century-old tree; the Poolside Villa Rooms; and the spectacular El San Juan Presidential Suite, which offers an impressive view of the beach and city; as well as Casa Del Mar Villa, a two-story residence located in the center of the outdoor facilities.
The hotel offers a broad selection of rooms, whether they are hidden among lush gardens, next to the legendary 300-year-old Banyan tree, facing the pools, seaside or with floor-to-ceiling windows to enjoy the view. Each room is designed to flow seamlessly with its tropical surroundings. In addition to natural design elements, modern technology is integrated into every room to ensure as much convenience as possible.
During their stay, guests can explore the shopping gallery, The Shops. For those looking to be immersed in nature on a physical and emotional level, they can book wellness classes and majestic treatments at the Well & Being Spa or Fitness. The hotel also features a state-of-the-art three-story gym, sports courts and the W&B pool. Guests can also opt for facial or body treatments at the Spa, situated on the hotel's 10th floor.
An assorted fruit plate served poolside.

A lobster grilled cheese sandwich with hand-cut fries served poolside.

The bolitas de pana appetizer combines breadfruit and vaca negra cheese over a savory guava jam served at Caña.

The crab "arepitas" appetizer is a creative tapa of blue crab salad and shaved smoked mango nestled on top of a coconut "arepa," served at Caña for dinner.

A soup-of-the day option at Caña is a creamy, rich plantain puree.

One of Caña's main entrees is a 6 oz. Black Angus filet mignon that sits on a blanket of apio and beet puree and Brussel slaw.

For dessert, Caña's menu offers the "Cazuela de Batata y Calabaza," a sweet potato and pumpkin pudding, topped with whipped mascarpone, honey, orange zest and a pumpkin seed "turrón."