Feds likely to nix using nutritional assistance funding to pay for fast-food meals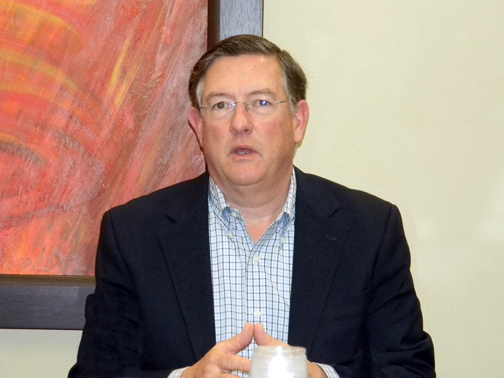 The possibility that the federal government will give the green light to expanding Supplemental Nutritional Assistance Program benefits to include restaurants is practically zero, as Congress is looking to make funding cuts to lessen the system's impact on the national budget.
As a result, the Family Department's plan to deploy its "Buen Provecho" initiative beyond the current pilot stage to an islandwide effort could be trumped.
"The expansion of SNAP benefits into restaurants is less of a threat now than it was a few months ago, said Peter Larkin, president of the National Grocers Association, who is on the island this week at the invitation of the Marketing, Industry and Food Distribution Chamber, known as MIDA.
The "Buen Provecho" program launched in October 2010 allows certain establishments in San Juan and Guaynabo to sell prepared foods to some 30,000 beneficiaries — mostly elderly, handicapped and homeless people — who pay with the card.
The initiative has been the source of controversy between MIDA, nutritionists and local restaurants who have squared off numerous times over the pros and cons of allowing the use of federal funds to pay for fast-food meals.
"The federal government is evaluating the local program and, as far as we know, the recommendations are awaiting approval," said Manuel Reyes Alfonso, executive vice president of MIDA. "We agree with Larkin in the sense that it is not a good time for such a program to exist, so we're hoping it doesn't expand."
MIDA's stance is in line with the island's Alliance for Adequate Nutrition, but completely at odds with the Puerto Rico Restaurant Association, which has stated that by including more fast-food restaurant options, more elderly and homeless people would have a better chance of getting a hot meal.
MIDA's concerns against allowing SNAP beneficiaries to use their card to pay for prepared meals is based on its belief that people will run out of money faster. Citing the U.S. Department of Agriculture's "Thrifty Food Plan," on which the SNAP program is based, a person spends an average of $1.50 to buy the items needed to prepare a meal at home, versus the average $7 they pay for a restaurant meal.
"That leaves participants running out of money within the first seven days of the month," Reyes said. "The other concern is that this program is intended to help farmers, so that their fresh goods are sold."
There are only three states — California, Michigan and Arizona — that have similar programs. However, they are on a per-county basis, where limited populations are given the flexibility to go out for a prepared meal, said MIDA President Ferdysac Márquez.
"That doesn't mean it is necessarily fast-food. In some cases the benefits can be used to pay for prepared meals delivered at home to people who can't cook for themselves," said Márquez. "There's a health issue, eating at home is a lot healthier than eating out. And, you will spend less money."
Independent supermarkets at risk
During his meeting with members of the local media, Larkin also offered a brief snapshot of the stateside supermarket industry, saying among other things, that independent retailers are at risk of buckling under the mounting pressure of the more financially powerful operations.
And while independents have certain flexibilities and can respond quicker to consumer demands and changing needs in comparison to the larger supermarket retailers, for the most part, they are family owned businesses passed down from one generation to the next.
"What's happening is that the younger generations don't want to be in the business, so eventually we'll see many family owned supermarkets phasing out," he said.
The U.S. mainland's independent supermarket sector generates roughly $200 billion to $225 billion in annual sales. Although there is no similar statistic to represent the size of the local independent supermarket sector, the reality is that most island supermarkets are locally owned, independent operations.
"Most of the retail food activity in Puerto Rico is in local hands, which is a good thing," said Reyes, naming Econo, Selectos, Plaza Loíza, Pueblo Supermarkets, Ponce Cash & Carry and Centroahorros as some of the better-known independents.