FEMA details recovery efforts in Puerto Rico post-Hurricane Maria and Fiona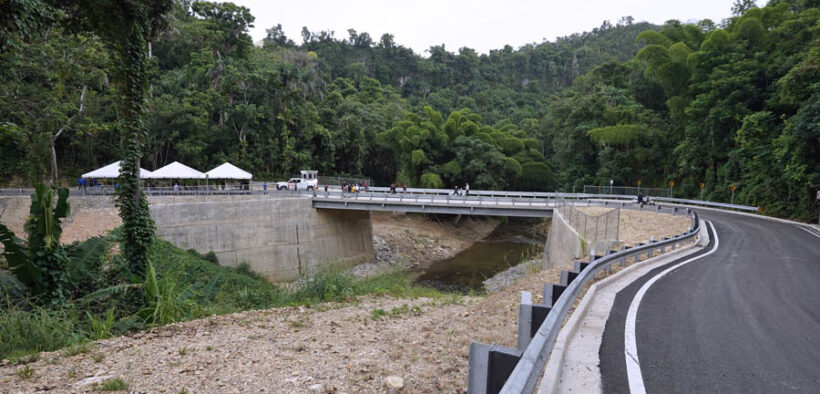 Nearly $4 billion has been earmarked by the Federal Emergency Management Agency (FEMA) for more than 6,400 projects supporting the recovery of every municipality in Puerto Rico, agency officials announced.
FEMA said that, year-to-date, the agency has allocated more than $296.8 million for 434 projects, offering more opportunities to foster local economic growth.
"Six years after Hurricane María, more and more projects have already completed their reconstruction or will soon begin construction. We are excited to witness how these works already have a positive impact in the communities and how the municipal development contributes to Puerto Rico's recovery," said Federal Disaster Recovery Coordinator José Baquero.
However, the Puerto Rico Mayors Association recently offered a snapshot of the reconstruction process and suggested ways to speed up these processes. Mayors Association President Luis Javier Hernández-Ortiz, joined by members of the Reconstruction Committee and lawmakers Juan José Santiago Nieves, Jesús "Chui" Hernández and Marially González, emphasized recommendations to quicken the reconstruction.
"In recent years, we've formed several collaboration agreements to streamline the recovery process after emergencies with entities like the Department of Transportation and Public Works, the Puerto Rico Aqueduct & Sewer Authority, the Housing Department, and LUMA Energy," said Hernández-Ortiz, who is also the mayor of Villalba.
One of the main reconstruction challenges, according to the mayors, has been the bureaucratic process.
"Especially the infamous 2017 agreement between the government and FEMA regarding the handling of disbursements. After an evaluation by our Reconstruction Committee, we found it to be discriminatory and confronted it," Vega Baja Mayor Marcos Cruz-Molina said.
In March 2021, members of the Mayors Association traveled to Washington, D.C., to request a change in the disbursement guidelines for Hurricane Maria claims.
"By September 2021, four years after the passage of that atmospheric phenomenon, we reached a historic agreement that dramatically sped up the processes after years of paralysis," Hernández-Ortiz noted.
At a press conference with local reporters, the members of the Mayors Associations explained the main challenges in the reconstruction tasks. These challenges include a steep increase in material costs, a lack of qualified labor for reconstruction work, and auctions declared as abandoned due to the limited availability of qualified contractors. In addition, they said "there is uncertainty" about what will happen to projects related to Hurricane Maria that were subsequently affected by Hurricane Fiona.
Other issues include the status of permanent-project disbursements for Hurricane Fiona, "which is unclear due to partisan gridlock in Congress," and the slow reimbursement process for Fiona-related emergency work.
Recommendations
Regarding the reconstruction of facilities for the Education Department and the Puerto Rico Electric Power Authority (now GeneraPR), the mayors presented status graphics. They highlighted a cost study from the Central Office for Recovery, Reconstruction and Resiliency (COR3) to reassess approved works that couldn't be awarded because of cost overruns. Recommendations included developing a consistent plan to inspect Maria-related projects affected by Hurricane Fiona, hastening reimbursements, and adopting the earthquake consortium model for Community Development Block Grant – Disaster Relief funds in the "city revitalization" mode, which they said is stalled due to slow permitting and bureaucracy. In the case of energy, the mayors recommended to classify the energy consortium model as a pilot program for mini-grids in communities.
Moreover, they advised decentralizing FEMA funds from the Education Department, suggesting collaborations with municipalities to accelerate projects, like air conditioner installations. The project office in the Education Department "is overwhelmed with pending tasks and has not demonstrated a sense of urgency," they said, adding that they aim to address school issues by the upcoming school year and propose a meeting to collaborate with construction sectors to enhance auction visibility and company contracting.
In the Education Department, according to the presentation, only $19 million, or 0.11% of the allocated $1.7 billion has been used. Of the projects, out of 2,023, only 127 have been completed, or 6.27%. Similarly, the Puerto Rico Electric Power Authority has $500 million of the allocated $11 billion under construction, or only 0.45%. The Housing Department appears to have the "most dramatic situation." It has spent $7.9 billion of its $35.6 billion allocation, or 22.19%.
The mayors also discussed their recent meeting with FEMA officials about the post-Fiona recovery.
"What we are seeing is that various procedural situations in the federal Congress have paralyzed disbursements for all permanent Fiona projects and any approval of new permanent projects related to María," Hernández-Ortiz said. "We will travel to the federal capital at the end of this month to address all these concerns and seek direct solutions with officials, members of Congress and senators. Certainly, when the contact is personal and direct, the communication and persuasion process is more effective."
Meanwhile, Manuel Laboy, COR3's executive director, highlighted that, in the agency's "commitment to speed up the reconstruction of projects led by the municipalities, COR3 implemented various initiatives to guide the execution of currently over 4,150 permanent works whose obligations are close to $1.9 billion. An example of the initiatives directed towards making the execution of projects possible is the development of the Working Capital Advance pilot program, which advances up to 50 percent of the amount awarded by FEMA for the municipalities to begin their reconstruction activities."
To date, FEMA has awarded more than $31 billion for nearly 10,800 Public Assistance projects.
$646M in Fiona assistance
Furthermore, FEMA has announced that more than $646 million in Individual Assistance (IA) grants have been awarded to survivors since Hurricane Fiona hit Puerto Rico. More than 740,000 households have received assistance to repair and rebuild their homes.
"It's been a year since Hurricane Fiona hit Puerto Rico, and we have maintained a close and direct working relationship with federal agencies and the Biden-Harris administration … FEMA in particular," Gov. Pedro Pierluisi said. "We have been working together for the well-being of the residents of our island and the results are evidenced by the disbursement of approximately $646 million of Individual Assistance to 740,000 households, as well as other funds allocated for permanent work in our infrastructure. I reiterate my gratitude to FEMA and know that we will continue this collaborative work on the reconstruction of Puerto Rico."
To further address the needs of underserved communities during Hurricane Fiona recovery efforts, FEMA introduced an equity-based outreach program, Enhanced Applicant Services, where specialists completed thousands of targeted callouts, assisting survivors who required additional support to navigate the IA program. As a result, more than $14.7 million has been approved in disaster assistance for individuals who may have initially been found ineligible.
"When survivors apply for disaster assistance, sometimes they may overlook important documentation that is required for the qualification process," said DuWayne Tewes, the federal coordinating officer for Hurricane Fiona. "This innovative approach demonstrates our commitment to helping survivors recover from Hurricane Fiona, providing eligible individuals and families the opportunity to continue advancing their recovery."
IA Specialists helped survivors lacking documentation, such as proof of ownership or occupancy. They also focused on populations that needed more support, including those with access or functional needs, individuals 65 years and older, those with low or zero income, or those who found the recovery process challenging.
Furthermore, FEMA expanded the range of accepted documentation to verify homeownership, identity and proof of residence during the disaster. This flexibility allowed more residents lacking standard documentation to qualify for aid.