Mayagüez ferry operator to expand service to 3 islands, add 100 jobs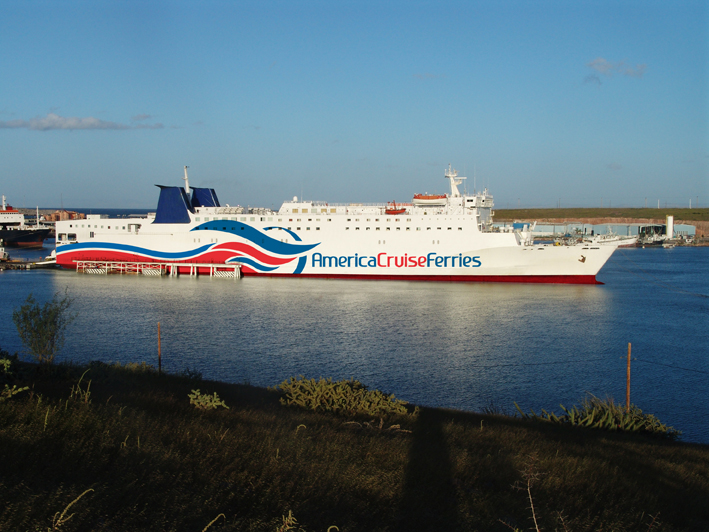 Less than a year after setting sail between Puerto Rico and the Dominican Republic, America Cruise Ferries is ready to expand its ferry service to St. Maarten, Guadalupe and Martinica starting in 2013, company officials announced Monday during a news conference aboard the vessel.
ACF, and its operating agent Marine Express, said the expansion will generate 100 new jobs to cover the service between Puerto Rico and the French islands. The ports will be added to the San Juan and Mayagüez, from which ferry service aboard the "Caribbean Fantasy" ship to Santo Domingo was re-established in June 2011. ACF currently employs 250 people.
Daniel Berrebi, president of ACF, said the goal is to transport passengers, vehicles and cargo to the neighboring islands. At present, AFC and Marine Express transport about 70 percent of the maritime cargo between Puerto Rico and the Dominican Republic and are the only ones offering ferry service for passengers on that route.
The company transported 48,347 passengers, 9,459 passenger vehicles, 4,756 export vehicles, 21,703 tons of construction rods, and 10,016 cargo containers from San Juan and Mayagüez to Santo Domingo since June 2011.
If maritime company keeps up the pace, executives predict it will transport 104,000 passengers, 15,300 vehicles and more than 16,000 cargo containers from June 2012 to June 2013.
P.R. en route to becoming maritime hub
During the news conference, Berrebi said the local government's incentives for maritime transportation, tourism marketing, product and service exports, establishment of foreign companies, new job creation and staff training are some of the "contributing factors that, along with the port infrastructure and Puerto Rico's geographic location contributed to our Board's decision to continue investing in the island and turn it into ACF's Caribbean region hub."
Later this afternoon, Berrebi — who is also president of Mexico-based Baja Ferries S.A. — is set to meet with maritime and banking officials from Europe and the U.S. to discuss financing options. Slated to participate in the meeting are James Niera, vice president of the German-Dutch banking consortium DVB Bank, and Parkinson Small, maritime financing manager, who will evaluate ACF's expansion plans.
Meanwhile, Secretary of State Kenneth McClintock, who was present at the news conference, said the government has been actively participating with ACF to lock down job creation while fueling tourism and commercial activity in the region.
"When Gov. Luis Fortuño visited the Dominican Republic in October 2010 for a commercial mission organized by both governments, all of the participating sectors — commercial, tourist and government — clamored for ferry service to be reestablished," McClintock said, referring to the hiatus of ferry service in 2010 due to a legal spat between the operating company and the Port of Mayagüez management team.
"The governor, government representatives and business leaders who participated in that meeting understood that the ferry is vital for commercial exchange between the islands. Just six months after that visit, the owners of ACF and Marine Express made possible the reality that we're celebrating so successfully today, and the fact that they're now considering expanding to three additional islands from Puerto Rico," McClintock said Monday.