Gov't hosting 1st Puerto Rico Tech Summit, 'Hackers Boot Camp'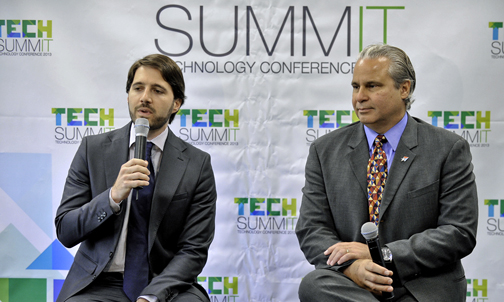 The government announced Monday it will host the first Puerto Rico Tech Summit, a one-day event that brings together leading technological gurus, cabinet members, the private sector, and academia for a discussion on the transformation of traditional government services through scalable product development.
The event that serves as a platform for the government to officially initiate the governor's visionary technological plan and aims to promote the island's technological potential as an engine for economic growth, will be held June 6, at the Puerto Rico Convention Center.
"This summit will help us identify new and effective ways to achieve interconnection and interoperability between government agencies as well as to find the appropriate means to provide secure access to  information for investors and entrepreneurs to support the economic growth the island needs," said Economic Development and Commerce Secretary Alberto Bacó.
"Similar to the private sector, government agencies relies on the effectiveness of its technology systems to optimize the citizens' service quality, speed and efficiency. Studies show that for every $1 invested in openness and ease to data access, there is a ROI of between $5 and $18 to the economy, which is why it is so important to promote technological development through efficient interconection and data openness mechanisms," said Giancarlo González, the government's chief information officer.
Among the keynote speakers confirmed for the Tech Summit are:
Evan Henshaw-Plat — Twitter's co founder and currently an innovation consultant through his own company, Neo.com.
Kristin Russell  — Colorado State's CIO, a state that has set the standards for technological innovation and job creation.
Hugo Troche — experienced consultant specializing in open code solutions design for implementing Service Oriented Architectures (SOAs). He assists companies to streamline their processes and get their ROI through technological change processes. Troche has developed more than 20 applications.
Christopher Herndon, co founder of Apartment List, the fastest growth search engine in the US. Along with partner John Kobs, Herndon startup is excelling in the broken US rental market.
Doug Robinson — Executive Director for the National Association of State Chief Information Officers (NASCIO)
Peter Shanley — Business Development Director, Neo Innovation Inc.
'Hackers Boot Camp'
One of the summit's key activities will be the first "Hackers Boot Camp," during which teams of experts along with college computer science students will be developing and presenting their solutions and applications for a series of challenges related to citizens services offered by the government.
The challenges have been previously identified by González's work team and will be presented to the group of experts next week.
The "Hackers Boot Camp" is the first initiative of its class in the island and will gather programmers and other experts involved with software development who will generate solutions that will improve interoperability between government agencies. At this first encounter, for which teams are already working on their ideas, teams will present their prototypes of applications and solutions, which can be implemented once their effectiveness to addressing the challenges identified is confirmed during the boot camp.
Approximately 100 programmers with experience in data base development, language programs, interface design and mobile applications development are participating in this effort. Programmers are working for free and will work within a 16-hour time frame to produce the solutions to address approximately ten challenges. Applications and solutions will be shared with the audience at the end of the summit.
"We believe this Hackers Boot Camp is a different approach to finding technological solutions through professional and productive interactions that will result in the innovation Puerto Rico needs to achieve its economic development goals" González said.
The Puerto Rico Tech Summit is open to the business community, executives and individuals related to technology and information systems, as well as to college students who will be granted a registration discount.