Grupo ASUR already eyeing changes for LMM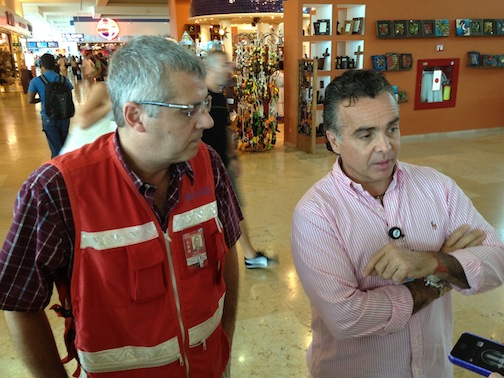 CANCÚN, Mexico — The transaction has yet to receive the final go-ahead from the Federal Aviation Administration, but Grupo Aeroportuario del Sureste  is already in the planning stages of several significant changes ahead for all three terminals in use at the Luis Muñoz Marín International Airport that include new commercial spaces and shuffling things around, company officials said last week in Cancún.
For one, Grupo ASUR's management team is in talks with JetBlue, which recently moved into Terminal A, to begin setting up concessions at the facility. That means new food stands and souvenir shops for the terminal that currently houses no commercial activity.
Manuel Gutiérrez-Sola, Grupo ASUR's commercial director said the company will meet with JetBlue's Puerto Rico management this week to begin working on that proposal.
The concession stands at LMM are currently in the hands of International Meal Company, which entered the local market in 2008. It has under its wing the management of 26 restaurants at the airport, including the Aeroparque facility, which has been closed for nearly three years. IMC also operates the airport's meal service division, catering to airlines and the facility itself.
Meanwhile, over at Terminals B and C, Grupo ASUR plans to start talks with the U.S. Transportation and Safety Administration to revamp the inspection areas currently behind the check-in counters, to create more space.
"What we basically want to do is relocate those inspection machines because they eat up an important area at check-in. And passengers need their space," Gutiérrez-Sola said.
The airport operator also wants to design a unified check-in point for Terminals B and C, "that is much bigger than the current facilities, where we would place a queue-up of the gates, which has yet to be finalized in design, but it's what we're proposing," Gutiérrez-Sola said.
"That would make the process much more efficient, for us as well as the TSA, because instead of having checkpoints at multiple locations, we can have a single area for those two terminals," he added.
Carriers in Cancún pleased
During a trip last week to the Cancún International Airport, News is my Business — along with several other Puerto Rican media outlets — sat in on a roundtable with representatives from the major airlines serving that facility, who spoke candidly about their relationship with Grupo ASUR.
For more than an hour, journalists were hard-pressed to uncover anything negative about the relationship between the carriers and airport officials, who were not present during the conversation.
Representatives from Air Canada, AirTran, United/Continental, Copa, JetBlue and Mexican regional low-cost carrier Volaris all coincided in the fact that their operations had grown exponentially in the past 12 years, crediting Grupo ASUR's management style for it.
"When I got here in 1995, this was a decrepit airport, with insufficient counter space and where airlines had little opportunity for growth," said Martha Philippe, general manager of United/Continental's Cancún operations. "It rained inside the airport, the bathrooms were terrible, there were many businesses here that had nothing to do with us."
"When Grupo ASUR began there was some resistance but little by little, they began undertaking improvements and the airport began to grow," said Philippe, who chairs the airport's airline committee. "It hasn't all been easy because we've had to operate while construction has been taking place."