Highways Authority to invest $254.6M in road projects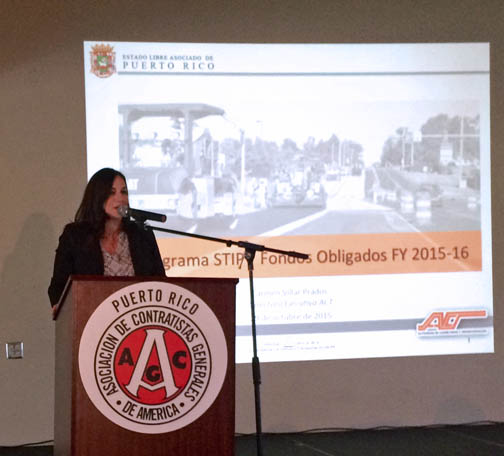 The Highways Authority will invest $254.6 million in federal funding on 53 road infrastructure projects that should be awarded in June 2016, agency Executive Director Carmen Villar announced Thursday during a meeting of the Associated General Contractors, Puerto Rico Chapter.
The total investment will come from federal funds that have been identified for the maintenance, rehabilitation and construction of road infrastructure. A bond issue backed by the Federal Capital Improvement Program will finance the largest portion, $178.3 million. The projects will be spread throughout the island with 12 in the southern region, 10 in the western region, and seven in each of the north, metro and the regions.
"This is encouraging and hopeful news for Puerto Rico's construction industry. This investment will produce jobs and healthy and useful infrastructure for citizens," said Humberto Reynolds, president of the AGC-PR, acknowledging the Highway Authority's "creativity" in identifying funding sources to carry out necessary work.
The cash-strapped Highways Authority is one of 17-credit issuing agencies included in the government's $73 billion debt tally, which will likely be restructured starting next month.
The main projects to be financed by the bond issue are: The dynamic toll from Highway 30 in Caguas to PR 52 at the Medical Center, worth $ 137 million and that will be split among five contracts; the continuation of the connector between the Medical Center and Cancer Center that will total $17 million and could begin as early as the first quarter of 2016; the construction of the Ciales bridge; and several rehabilitation and paving projects.
Villar said there are $35 million allocated for resurfacing projects, which will have a quick impact on the economy and the condition of island roads.
"My goal is to meet the needs of citizens and impact the largest population possible," said Villar.
During the AGC-PR's monthly luncheon, Reynolds confirmed the trade group is watchful of the government's fiscal condition, which has led to defaulting on contractor payments.