Hurricane María dealt $86M blow to LMM airport; Aerostar marks 5 yrs of operations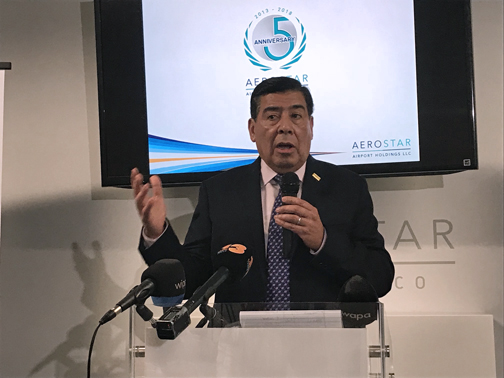 Hurricane María caused $86 million in damages to Puerto Rico's Luis Muñoz Marín Airport, including business interruption — terminals that lost entire roofs — and a drop in passenger traffic that operator Aerostar Airport Holdings is hoping will return to normal by summer.
During a news conference to mark the island's main air traffic hub's 5th anniversary under private management, Aerostar CEO Agustín Arellano said of the amount claimed, the insurance company provided an initial $4 million immediately after last September's storm to mitigate losses, and is now disbursing an additional $10 million.
"The hurricane's impact was significant. Regardless of whether it looks like the airport is running normally, it's not. There's work to be done and we're carrying out," he said. "We're now getting bids to fix the roof, which will likely cost about $30 million."
The hurricane caused a 30 percent drop in passenger traffic to 8.4 million last year, from the 9.1 million passengers the facility received in 2016, he said.
"Of the 30 percent we lost, we want to gain back at least 4 percent to reach 8.7 million this year," he said.
However, he was emphatic in saying that growth will only occur when tourism activity bounces back and airlines bring down ticket prices, which have skyrocketed for certain destinations.
Ironically, those fare hikes have happened despite the fact that Aerostar slashed operating costs for carriers by 25 percent when it took over the airport's operations.
"This airport remains as one of the least expensive for airlines, which have a 25 percent discount in the use of facilities, effective for 15 years when we came in," he said. "People are profiting from this situation and we have to work hard so that things come back to normal as soon as possible, especially airline ticket costs."
In the wake of the storm, Aerostar has embarked on a renovation project involving several areas of the airport, including Terminal D, which will get a $12 million overhaul, rehabilitating taxiway Sierra that connects the two runways at a cost of $22 million, and wrap up work at Terminal A — where it is investing $5 million in a new immigration and customs area for international passengers.
"The taxiway rebuild will begin in November. It hasn't been repaired in more than 30 years and now we're going to make it new out of concrete," Arellano said.
In all, over the past five years, Aerostar has invested some $170 million in permanent improvements, and $50 million in maintenance and rehabilitation work of the airport's grounds and facilities, including building a new central checkpoint, installing a new $22 million baggage claim system and 21 new boarding bridges, new signage, lighting systems and extending one of the runways (8/26.)
The airport has generated 8,000 direct and indirect jobs over that period of time, the executive added.
"They have been years of hard work and deep satisfaction. We'll continue carrying out large projects that position the airport as an important factor in Puerto Rico's economic development," Arellano said.
In the area of technology, airport officials installed 1,000 security cameras throughout the airport, which Arellano said has improved safety on the premises in coordination with federal authorities. Meanwhile, the operator has allocated more than $1.8 million to acquire three new firetrucks and train the emergency and rescue teams, which were not in compliance with Department of Defense or Federal Aviation Administration regulations.
Aerostar Airport Holdings took over the operation of the Luis Muñoz Marín airport on Feb. 27, 2013, in exchange for a $615 million upfront payment to the Puerto Rico Ports Authority and annual payments during the life of the 40-year contract. Arellano confirmed the company has met all of its contractual requirements so far, as well as those laid out by the FAA when the documents were signed.
"The work has been intense. The airport needed a major renovation, which presented important challenges, including 'hidden vices'," he said, mentioning how taxi service was offered and the operation of the multi-story parking facility.
"That was under a concession, it wasn't operated by the Ports Authority. It has 4,800 parking spaces and there were 5,000 courtesy cards out there. It wasn't getting any maintenance work, it wasn't well lit. So we had to do a complete reengineering of the parking facility," he said, noting it took three months and $1.5 million to address those issues.
Lessons learned from Hurricane María
During the news conference, power went out at the airport — and most of the island's northern flank — putting a spotlight on one of the facility's pain points: consistent electrical service from the Puerto Rico Electric Power Authority.
"The situation with PREPA has been a true headache. The airport has 21 emergency power generators, but every time we have service interruptions they cause damage to the generators or other equipment, like the air conditioners," he said, adding that Aerostar has worked with PREPA to get priority status — behind island hospitals — when restoring service after an outage.
To mitigate the problem, Aerostar is looking to long-term solutions of its own to "have a more stable service," Arellano said, adding plans call for installing co-generation systems using natural gas and acquiring power generators for the air conditioning units at each of the terminals.
Finally, he said that in the past five years, cargo activity has increased by 28 percent at the airport, and that could increase when Aerostar completes a new $7 million warehouse and office building complex that will become the hub for Federal Express in Puerto Rico and the region, as this media outlet first reported in November, 2017.
That complex should be inaugurated in December, Arellano said.