Karen Millen, Starbucks moving into Plaza Las Américas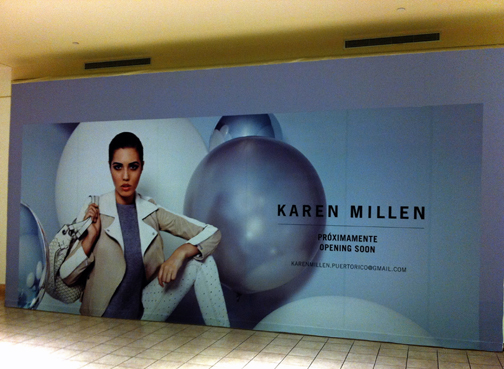 British multinational women's designer clothing retailer, Karen Millen, which specializes in tailoring, coats and evening wear, will be opening its first store in Puerto Rico at the Plaza Las Américas shopping center in Hato Rey, this media outlet confirmed Wednesday.
Although the contractual agreement between the upscale retailer and the shopping center has yet to be finalized, there is a sign up already announcing the store's impending arrival to a 3,000 square-foot location on the second level between JC Penney and Macy's.
The retailer founded in 1981 in the United Kingdom has about 60 franchise stores in 23 countries, including the U.S. mainland, where it has boutiques in Atlanta, Boston, Washington, Dallas, Los Angeles, New York City, San Francisco and San Diego.
Attempts to reach franchise executives were unsuccessful Wednesday.
Meanwhile, Plaza Las Americas will usher in its first Starbucks Coffee shop in coming months, to be located in a 943-square foot space — also between JC Penney and Macy's.
Rounding out the list of new arrivals will be Colorado-based sporting goods retailer The Sports Authority, which will open a store in Plaza Las Américas and Plaza del Caribe in Ponce, both owned by Empresas Fonalledas.
Although information on the retailer's arrival and scope was scarce as of press time, this media outlet learned the retailer will be issuing a press release today with details.
However, on Wednesday, regional newspaper La Perla del Sur reported that The Sports Authority will build a 35,000 square-foot stand-alone store at Plaza del Caribe, next to CompUSA. The store is expected to open during the last quarter of this year, the newspaper said.
Quoting Darrell Webb, CEO of The Sports Authority, La Perla del Sur also confirmed the retailer's plans to set up shop in Hato Rey.
"We're extremely excited to announce the opening of Sports Authority stores in Puerto Rico where we anticipate we'll be providing the leading brands in apparel and equipment together with outstanding customer service," Webb told La Perla del Sur. "We will offer more detail in coming months."
As News is my Business has previously reported, the Ponce mall is currently in the misdt of a massive renovation and expansion project that includes the addition of a 21,000 square-foot Forever 21 store, a 6,580 square-foot Longhorn Steakhouse restaurant and Puerto Rico's second P.F. Chang's restaurant, which will take up 7,500 square feet near current tenant, Macaroni Grill.