Kia Motors looking to send local 'ambassador' to Korea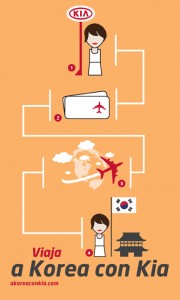 Kia Motors Puerto Rico is looking for an ambassador to represent island customers at a brand loyalty at an event in Seoul, Korea, in September. As part of its "Servicio en Familia" ("Family Service") campaign, Kia will reward its service center customers by paying for a trip to where the cars are made.
To choose the winner, Kia has launched the "To Korea with Kia" campaign. Starting June 1, participants must visit the official Kia Motors Puerto Rico Facebook fan and register. In the application, clients should describe the most "positive and amazing experience" at any of the 15 Kia authorized service centers. In addition, they must upload a photo or video with their Kia vehicle.
A panel of judges will select the five best stories, which brand enthusiasts will be able to vote for during a two-week period to select the winner. During the trip, the winner will have the opportunity to visit the Kia operation centers in Korea, tour the city and meet other Kia customers from other countries like Spain, the U.S. mainland, Chile, Peru and Colombia, among others.
For more information about the contest, visit www.akoreaconkia.com.