TOTE Maritime P.R. donates to Museo de Las Américas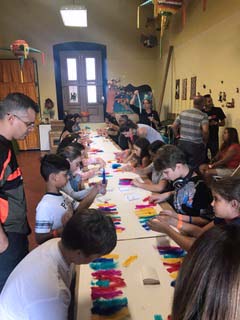 TOTE Maritime Puerto Rico gave a donation of $5,000 to the Museo de Las Américas for its art workshops program for lower income and at risk communities throughout the island, Eduardo Pagán, executive vice president of TOTE Maritime for Puerto Rico and the Caribbean announced Tuesday.
"This collaboration with the Museo de Las Américas is part of TOTE Maritime Puerto Rico's commitment as a responsible corporate citizen with the education of Puerto Rican youth, in this case we are sponsoring an effort that uses the art as an educational resource through the workshops offered by the museum," Pagán said.
"This alliance allows us to reach those communities in need, in which we want to focus, using art as a development tool," he added.
The Museo de Las Américas specializes in all art manifestations from the Americas, since its opening have presented over 425 temporary exhibits, in addition to educational activities related to the exhibitions and the cultural scene of the Americas.
As part of this collaborative agreement, the children of Tote Maritime Puerto Rico's employees had the first-hand opportunity to know the workshops participating in one of them, also could be part of a guided tour through the Museo de las Americas' facilities. Therefore, showing the company's commitment with the arts and the education is extended to all the TOTE Maritime Puerto Rico's family.
The Museo de Las Américas' art workshops have as their main goal to contribute to spread Puerto Rico's cultural heritage amongst the community, educating them about art, so they can know learn of it and how to preserve and appreciate it, officials said.