Multinational Insurance claims P.R. market footing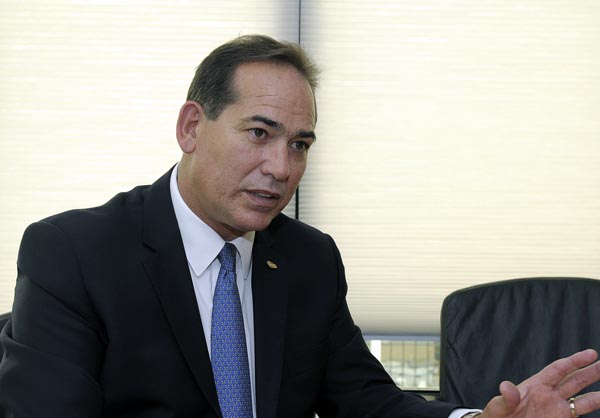 Five months after entering Puerto Rico's insurance market, Multinacional de Seguros is laying the groundwork to establish itself as a contender in the highly competitive $8 billion economic sector.
In an exclusive interview with News is my Business, Luis Pimentel, executive president of the Venezuelan company's local subsidiary, Multinational Insurance Company, said the strategy calls for offering customers the best bang for their buck and launching new products and services catering to current needs and economic reality.
"We're in a very competitive market and we have an obligation to properly orient clients so that they're certain that their investment is right and fits their needs," said Pimentel, who has 30 years of local insurance industry experience under his belt.
That said, he did not hesitate to note the newcomer's aggressive plans to take advantage of the niches available and launch new products accordingly to compete head-on with the established players.
For instance, Pimentel said opportunities are ripe in the areas of life and disability insurance; individual and group health plans, including cancer coverage; and auto insurance. In this latter category, Multinational is looking to launch a product with no depreciation, which is currently unavailable in the market.
"The truth is that the industry in general lost about $180 million last year when compared to the prior year and everybody is looking to reduce costs and expenses. But, if we're able to develop products that show real value, we'll be hitting niches and opportunities that will generate business," Pimentel said.
In the not-so-distant future, Multinational may also jump into the compulsory auto insurance business — currently served by just two companies — as well as the government's public health coverage plan.
"Competition is always good if done the right way. The arrival of new insurance companies and new products to Puerto Rico helps to stabilize costs and prices," he said.
Multinacional de Seguros C.A., entered the local market in November 2011, after bidding for the assets of the failed National Insurance Corp., which until then had been a mainstay of the island's insurance industry. Through a court-assisted transaction, the Venezuelan firm picked up NIC's life insurance business, adding it to its network of about 50 branches throughout Venezuela, Panama and Aruba.
Puerto Rico is the first U.S. territory where the company is doing business, a step that it had been considering taking for some time, Pimentel said.
"The group has an extraordinary relationship with the U.S. reinsurance market, so when it got word that there was an opportunity becoming available in Puerto Rico, it carried out the transaction through its partner Ancon in Panama," he said. "This transaction combined foreign capital with local talent with vast experience in this market."
During its first year, Multinational Insurance is looking to grow its acquired life insurance business by about 13 percent, to $85 million in 2012, from the $75 million subscribers it had on record in 2011. Meanwhile, the property and casualty division — which is a completely new operation — should originate $35 million in policies this year, Pimentel said.
"We're very results-driven. And given that we're living in a very tough economy, we have to be very smart about how we do business to achieve positive results," he said.
Getting up close and personal with customers
One of the main challenges that the company faced upon arriving to Puerto Rico was offering continuity of service to NIC's customer base. While there were glitches along the way, Pimentel said things have leveled off.
"The feedback we've received in recent months from customers is that they've seen a change in service and response time. We notice that positive change in the reports we get. While our goal is to resolve miscellaneous claims in 48 hours, our life insurance policy claims should be resolved within 15 days," he said.
To expedite processing, Multinational Insurance established a local call center to handle customer interaction, and also opened a hotline in February to serve Option Health Care policyholders, which it inherited through the NIC transaction.
That personal contact will also be offered through the opening of five branches throughout the island this year and early next, entailing an investment of about $100,000, he said. Offices in Mayagüez, Arecibo and Humacao will open before year's end, while Caguas and Humacao branches will open in 2013.
"We basically want to make our customer's lives easier. The regional offices will have the ability to process policies and claims and disburse checks, so that a client in Mayagüez, for example, will have no need to come to San Juan to solve their issues," he said, adding a website is also in the works.
Getting 'in' with ratings agencies
While Multinational has been multi-tasking — reaching out to customers and studying the market to see which new products are needed — it has also been working on getting its accreditation from the industry's most important credit rating agency, A.M. Best.
The global firm's credit affirmations and comprehensive analysis of a company's finances and circumstances will pretty much make or break an operation, as was NIC's case in the end. A.M. Best keeps close tabs on the local insurance market, which Pimentel said will soon include Multinational Insurance.
"We're finalizing our qualification paperwork and we hope to have our A.M. Best classification by May," he said. "Our parent Ancon is solid and very profitable, and we're hoping that it will soon become classified, which is extremely important for us in our relationships with banks and insurance brokers."