New Telecom Board nominee gets industry support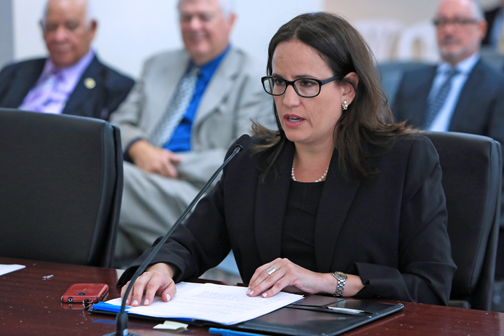 The Senate's Banking, Insurance and Telecommunications Committee on Thursday evaluated the appointment of Gladys A. Maldonado-Rodríguez as associate member of the Puerto Rico Telecommunications Regulatory Board.
An attorney and engineer, Maldonado-Rodríguez has more than 20 years of experience in the telecom field. She has a degree in Electrical Engineering with a minor in telecom from the University of Puerto Rico, Mayagüez Campus and a Juris Doctor from the UPR Law School.
Her appointment met sweeping support from the island's telecom sector, including Claro, WorldNet Telecommunications Inc. and Liberty Cablevision of Puerto Rico. Maldonado-Rodríguez also got endorsed by TRB President Javier Rúa-Jovet, who during testimony before the committee chaired by Sen. Ramón Luis Nieves, emphasized her professional track record.
"I support without reservation the appointment Maldonado-Rodríguez as associate member of the Board. Public service rarely has the opportunity to have officials with the extraordinary professional and technical degree Maldonado has," said Rúa-Jovet.
Maldonado began her career at the Puerto Rico Communications Corp. She subsequently moved to Puerto Rico Telephone Co. In 2003, she worked as a lawyer in a firm with a large telecom law practice. In 2010, she founded her own firm also specializing in telecom law practice.
As a lawyer, Maldonado-Rodríguez has represented telecom companies before the TRB, the courts, the Federal Communications Commission and the Department of Consumer Affairs. She is a member of the College of Engineers and Surveyors of Puerto Rico and the Puerto Rico Bar Association.
During her testimony at Thursday's hearing, Maldonado-Rodríguez said, among other things, that the agency must analyze whether existing telecom regulations are leading to better services for customers and a strengthening of the industry.
"Excessive regulation can become an impediment to enter the market, discourages the development of new products and can become too onerous for companies, whose costs will eventually be passed on to customers," she said.
"The idea is not to deregulate, but to maintain a healthy balance to ensure the protection of citizens," said Maldonado-Rodríguez.
The nominee also recommended the dissemination of accurate data on the deployment of facilities and use of telecom services and information.
Once confirmed, Maldonado-Rodríguez will replace former member Sandra Torres, who sued the government and Rúa-Jovet after being removed from her post as agency president in 2013 — more than two years prior to the end of her six-year term on Nov. 15, 2015.
The San Juan Superior Court denied her request for a preliminary injunction last month.