Nonprofit to focus on developing P.R. visitor's economy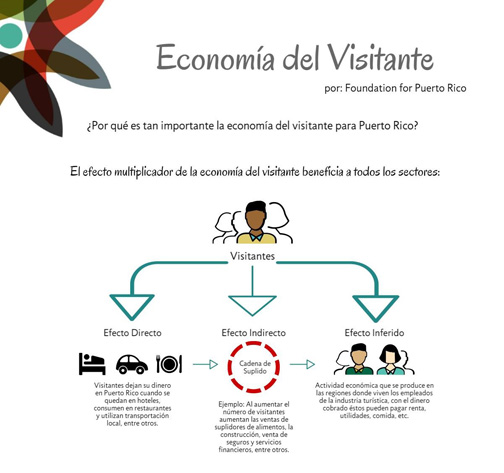 The Foundation for Puerto Rico announced Thursday it is focusing its efforts on developing new social and economic strategies that will transform Puerto Rico into a global destination, based on the premise that tourism is key to improve the economy.
Foundation for Puerto Rico Chairman Jon Borschow said, "we at the foundation have decided to focus our mission toward transforming Puerto Rico as a global destination; we are convinced that accelerating the tourism industry's growth rate is key for the betterment of our economy."
The nonprofit is betting on tourism in a broader sense of the term, envisioning economic growth for all sectors of the island that would benefit from an increase in visitors.
"Visitor's economy and tourism are two different but complementary concepts. Visitor's economy refers to an economic strategy that is concerned with the whole ecosystem in which tourists and other visitors act. This includes the direct, indirect and inferred effects that this visitor has on the island's economic activity," Borschow said.
"Taking into consideration the multiplicative effect that visitor's economy has on all the island's sectors and Puerto Rico's diverse offering, the foundation is now working on a multi-sectoral plan that will help reposition Puerto Rico as a unique global destination," Borschow said.
Currently, Puerto Rico receives 3.6 million visitors annually, which represents 0.4 percent of the world's total visitors. However, visitor's economy contributes $7 billion to the island's Gross National Product.
The Foundation for Puerto Rico's goal, with the help of a strategic plan and the support of the island's economic sectors, is to increase this contribution to the GNP to $14 billion by 2020, he said.
"A growth of $7 billion in our economy within a span of five years would transform our economic situation and would end our recession. It would create opportunities and employment in all economic sectors and all geographic areas of the island," he said.
"It is time for us to all come together to make Puerto Rico a destination for the entire world. There is no doubt that we have to work together to strengthen our offering in certain areas, but even without making any changes, Puerto Rico has extraordinary factors that can attract more visitors," Borschow said.
"This has become evident in the interviews we've been conducting to visitors. It's a fact that in the 21st century visitors are looking for more than a hotel or a beach; every day they are looking for new experiences and we have many experiences to offer: gastronomical, cultural, economical, educational, among others," he added.