Piñones boardwalk undergoing $3.2M reconstruction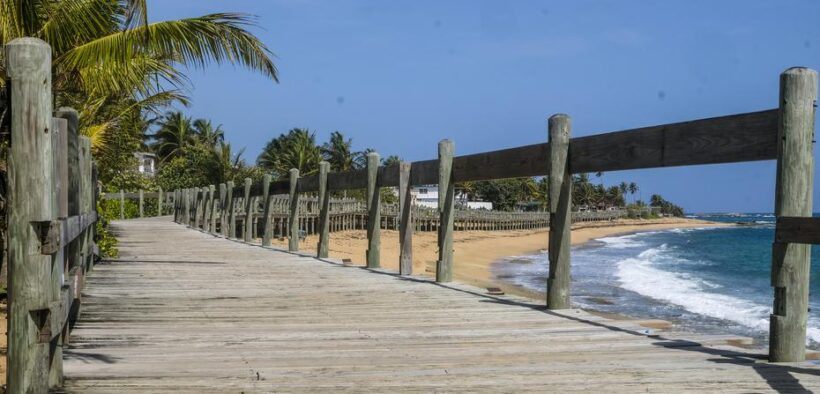 The Paseo Tablado de Piñones, a boardwalk that borders the Atlantic along the northern town of Loíza, will be reconstructed at a cost of $3.2 million, which was assigned by the Highways and Transportation Authority (ACT in Spanish), Loíza Mayor Julia Nazario-Fuentes announced.
"In Loíza we're very grateful to [ACT Executive Director Edwin] González and his work group, for the interest and analysis they have put into this project, which will promote tourism in the area, in line with the protection of the resources of the Piñones Forest, a facility overseen by the Department of Natural and Environmental Resources (DNER)," she said.
The project is currently in the design stage, and as additional details are worked out, they will be made public, Nazario-Fuentes said, disclosing that the funds assigned by ACT came from the American Rescue Plan Act of 2021.
"We're very enthusiastic about this project because it represents the rehabilitation of an ideal space for recreation and economic development through tourism," González said.
"Above all, local tourism that will be able to visit the Piñones State Forest again while enjoying different outdoor activities. At the ACT, we're working with different spaces for traffic, not only for vehicles but for cyclists and pedestrians who will have a place here with all the road safety elements for recreational traffic, as we did with the recently inaugurated Paseo Lineal in Camuy," he added.
The Piñones boardwalk stretches through mangroves that are home to some 96 bird species and dozens of fish species, which coexist in the Torrecilla and Piñones lagoons. The path also extends to Aviones Beach, Chatarra Beach, Tres Palmas and Vacía Talega.
"As part of the important urban system known as the San Juan Bay Estuary, we at the municipality are in constant collaborative contact with groups and individuals who love the environment and conservation," Nazario-Fuentes added.