Puerto Rico wins five awards in robotics world championship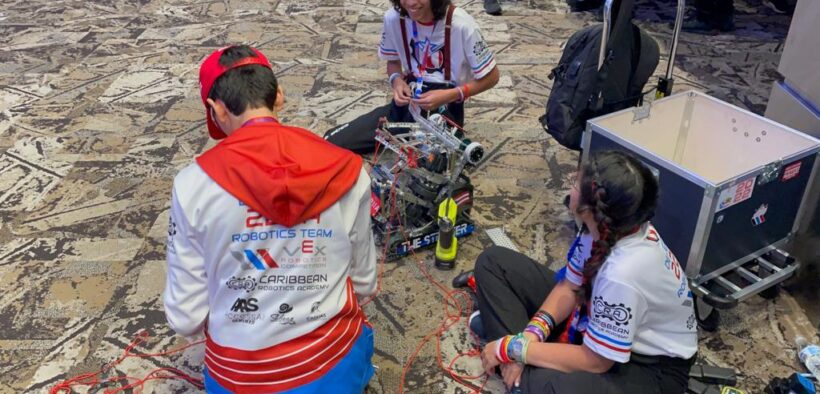 The nonprofit organization Caribbean Robotics Academy announced that Puerto Rico's delegation to the 2023 VEX Robotics World Championship brought back five awards from its participation in Dallas.
The competition involves designing and operating a robot built to perform specific tasks and address particular challenges.
"The Innovate Award is given to teams that demonstrate innovative design and strategy in competition, and receiving it is a sign of the commitment our students used to seek creative and effective solutions to the challenges of the competition," said Pedro Alvarado, executive director of CRA.
Students from Hogar Colegio La Milagrosa in Arecibo won the prestigious Innovate Award at the competition, which recognizes their innovative solution to the challenge, according to the organizers.
Students from the Cimatec school, who qualified for the world championship by winning the Online Challenge, were presented with their trophy during the event and also received the Energy Award.
Additionally, the Adianez School team won the Create Award, while the KHU Inventors team, and a team composed of homeschooled students and public-school students, won the Judges Award. 
"We're extremely proud and happy for them since they had an outstanding participation that was recognized even by the leaders of REC Foundation, the organizing entity of this competition," said Kelianet Roque, project director of CRA.
The Puerto Rico delegation to the VEX Robotics World Championship was composed of 41 students from the middle school, high school and university levels, some with up to six years of experience in this type of competition.
The delegation was also composed of students from Colegio San José de San Juan, the Municipal Robotics Club of Salinas (two teams), the Mayagüez Campus of the University of Puerto Rico, and the Polytechnic University of Puerto Rico.
Alvarado and Roque said they are already preparing for the next competitive cycle, which "which will provide hundreds of students from all over Puerto Rico with the opportunity to experience and aspire to be part of the 2024 delegation."