Restaurant Association presents study findings, '23 projections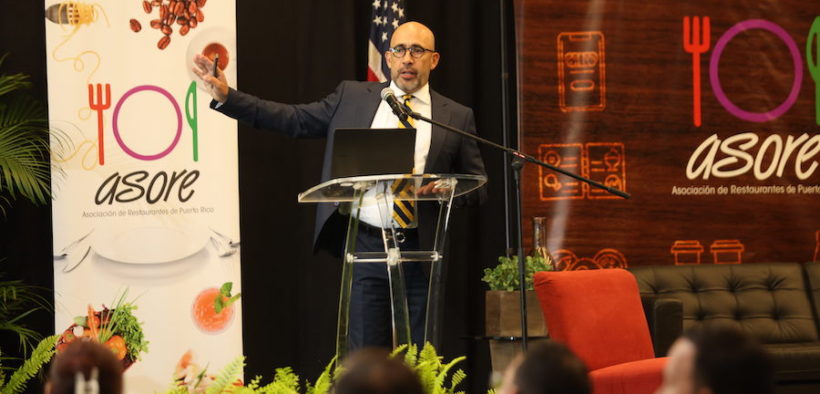 The Puerto Rico Restaurant Association (Asore by its Spanish acronym) has presented its updated Asore Tendencies Study (EAT by its Spanish acronym) and the 2023 Projections study findings, in an event held for the organization's membership of prepared food and food service industry professionals and suppliers.
"Our industry is one of constant changes and this type of information, such as that provided in the EAT report and the 2023 Projections, is a tool that allows us to take the market's pulse in order to establish our business plans and identify areas of opportunity," Asore President Mateo Cidre said. "For example, the EAT report clearly shows that customers are taking the necessary steps to continue enjoying their restaurant experiences, from spending less to integrating more technology into their processes. The study allows us to see what those trends are and what things we need to do in our businesses to adapt to them."
The Research Office-prepared study has become an industry benchmark and was conducted in September. It included 1,000 adult respondents who visited fast food restaurants across Puerto Rico over the prior three months or full-service restaurants in the past six months.
"In essence, the results show that consumers adapted well to the new realities of the industry after the pandemic and that restaurants continue to provide a great emotional reward of being able to socialize with friends and loved ones," said José Alfonso, executive director of The Research Office.
Among the EAT's main findings on consumer behavior in restaurants is that about 17% of diners believe their personal financial situation will improve in the coming year, a drop from 31% who felt that way in the 2019 EAT. For comparison, this figure increased to 40% stateside, according to a study carried out by the National Restaurant Association last year.
Some 38% of those surveyed are concerned with the economy and say they are limiting their spending, and 40% said they are engaging in a "wait-and-see attitude" and limiting their spending until the economy improves. Respondents further noted that they are looking for "value for money" with some 34% noting that they belong to a restaurant loyalty program.
Regarding technology, 65% of people surveyed said it facilitates the dining experience, such as paying via mobile payment platforms. Respondents said they look up restaurant menus online and place delivery or pickup orders using a mobile app or through a restaurant's website.
Similarly, 72% of respondents said they have used technology to search for a restaurant's location, address and hours of operation — in 2019, this figure was 52%.
Many surveyed would like to enjoy local fare, with a large majority of diners, 80%, saying they would opt for a restaurant that offers dishes prepared with produce grown in Puerto Rico.
2023 Projections
A preview of the 2023 Projections study, which updates and analyzes the status of the restaurant industry and its suppliers, as well as their economic impact, was also presented.
Among the most outstanding data in the report prepared by the Inteligencia Económica consulting firm, are that 72% of restaurant owners and suppliers have had to increase menu prices to mitigate the high operational costs in the industry.
Meanwhile, 76.8% of restaurants indicated having an up to 30% shortage of employees, given the "change in mentality" post-pandemic, and having to raise wages, which was one of the biggest challenges when hiring employees to work in the industry.
Looking ahead, 40.2% observed that business conditions for the industry will remain normal this year, with a negative outlook, but remaining optimistic.
"The restaurant industry continues to face challenges due to rising global food costs," Inteligencia Económica General Manager Chantal Benet said. "Although the industry reported an increase in sales, it must be seen in the context that food [prices] have increased by 10% in the same period. Even so, the industry remains positive with 54% of restaurant owners indicating that they will invest in their business in 2023."