SBA adds COOPACA as new 7(a) lender in Puerto Rico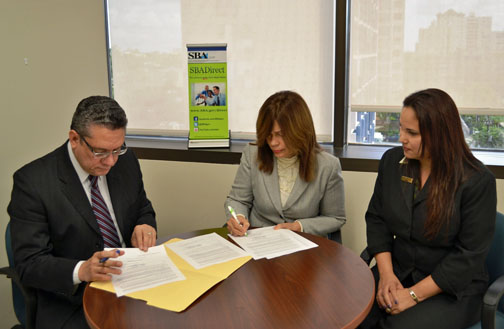 The U.S. Small Business Administration (SBA) announced that it has given authority to Cooperativa de Ahorro y Crédito de Arecibo, better known by its acronym COOPACA, to provide financial assistance to small businesses under SBA's 7(a) Loan Guaranty Program.
"We are pleased to welcome COOPACA to SBA's family of participating lenders in Puerto Rico," said SBA Deputy District Director María de los Ángeles de Jesús. "At times when it may be a challenge for small business owners to obtain financing, it is encouraging to see a new point of access to financial alternatives that count with the support of our programs."
During a signing ceremony at SBA facilities in Hato Rey, SBA and COOPACA officials agreed to work together in fostering the island's economic development by promoting opportunities that result in increased small business creation and expansion. COOPACA is the fifth credit union to become an SBA 7(a) lender in Puerto Rico, joining Cooperativa de Ahorro y Crédito de Aguada, Mauna-Coop, Cooperativa de Ahorro y Crédito Dr. Manuel Zeno Gandía, and Caribe Federal Credit Union.
The SBA's primary lending vehicle, the 7(a) Loan Guaranty Program provides long-term financing to acquire equipment and machinery, inventory, fixtures, and accessories, and to make renovations, purchase land, build new buildings, purchase existing businesses, and repay certain debts. The SBA can guarantee up to 85 percent on loans up to $150,000 and up to 75 percent on loans higher than $150,000 up to $5 million.