Scotiabank collects $85K for 10 nonprofits during 'World's Best 10K' race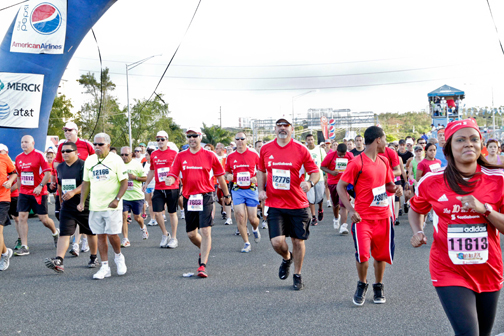 Through the "10 for the Scotiabank 10K" campaign and for the second consecutive year, 10 Scotiabank de Puerto Rico executives accepted the challenge to raise funds for 10 local nonprofits by walking or running the World's Best 10K race held late last month. Scotiabank is the event's main sponsor.
The proceeds from the campaign, coupled with proceeds from a number of other fundraising activities among bank employees, clients and the general public, a total of $85,000 was donated to: "Fundación Basta Ya," "Forjando un Nuevo Comienzo," "Proyecto Matria," "Boys & Girls Club," "Teen Challenge," "Hogar Rafaela Ybarra," "Fundación Hogar Niñito Jesús," "Lucha Inc.," "Amigos Compasivos," and the "Hogar Nuestra Señora de la Providencia."
The organizations have a common thread in their commitment to offering prevention, education and support to crime or violence victims.
"We are proud to have a team as committed as ours and again be able to help nonprofit organizations with such dedication and responsibility to work hard against violence and provide support to victims," said Scotiabank President Peter Bessey, who participated in the international event that crosses the Teodoro Moscoso Bridge in San Juan in support of "Fundación Basta Ya."
Nine other bank executives ran in support of the other nonprofits benefited.
"Today we can offer these nonprofit organizations the support they need, not only for our efforts as spokespersons for the initiative, but thanks to the enthusiasm of our employees, our customers and the general public, who believed in this initiative and joined us," Bessey said.