Senate to vote on 'anti-Uber' bill that skipped hearings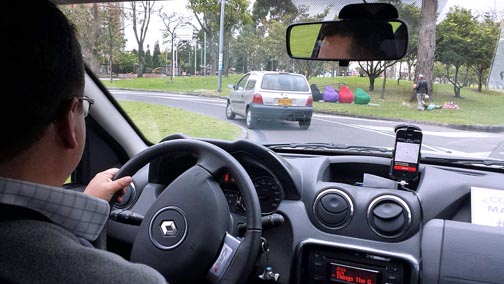 The Puerto Rico Senate will put to a vote today Bill 1209, which seeks to establish public policy and regulate the operation of mobile application-based transportation network companies, or TNCs such as San Francisco's Uber, in Puerto Rico.
In October 2014, Sen. Antonio Fas-Alzamora introduced the bill, which was not scrutinized at public hearings, but was instead discussed in an executive meeting held by the Senate's Tourism, Culture, Recreation and Sports Committee the following month.
The bill's motives note that these types of businesses that allow consumers to submit a trip request, which is routed to crowd-sourced taxi drivers, are not regulated and "therefore do not have the required permits to operate in the passenger transport industry."
"This affects the security of citizens and tourists, as well as the rights of passengers as consumers and operators and companies that operate according to the law," the bill states. "This is why at present, these companies are under strong scrutiny in certain parts of the world because they operate outside the law."
A TNC uses an online-enabled platform to connect passengers with drivers using their personal, non-commercial, vehicles, according to an industry description. TNCs develop a computing platform that creates an online marketplace in which a driver and car owner registered with the company may offer their own labor and car to people who request a ride.
As of Dec. 16, 2014, the Uber service was available in 53 countries and more than 200 cities worldwide, but has also been banned, declared illegal, or subjected to regulation in a number of countries and U.S. jurisdictions. Uber's pricing is similar to metered taxis, and faces competition by other startups including Lyft, Sidecar and Haxi.
While Uber was named "tech company of the year" by "USA Today" in 2013, it also received an "F" rating from the Better Business Bureau in October 2014, over complaints about unexpectedly high charges.
'No insurance, no background checks'
In the measure, the Senate pointed out that TNCs do not provide insurance coverage to passengers, do not establish fixed rates, and drivers are not asked for criminal background checks.
"This Legislature recognizes the importance of the island's tourism industry, given the jobs it generates, as well as for its contribution to our economy. Although it is necessary to stay on the cutting edge in the provision of services, we can't allow the operation of companies that endanger the safety of the people involved," the bill noted.
Puerto Rico's public transportation sector, including taxi service, is highly regulated by the government. For example, taxis that cater to tourists are monitored by the Puerto Rico Tourism Co., while the majority of other forms of public transportation fall under the watch of the Public Service Commission.
"It is not the role of the Senate of Puerto Rico to deter technological innovation and to protect the taxi industry from new market competitors. It is up to the consumer to decide," said Juan Carlos Pedreira, digital marketing consultant at Social Business Hub Inc.
"Sen. Fas-Alzamora probably knows very little about how the sharing economy is uprooting traditional industries with services such as Uber and AirBnb — offering customers with better service and low prices," he said. "Let's create legislation that fosters innovation and protects the consumers. Sooner or later, the decision will be made by the consumer, not by a piece of legislation."
Pedreira, who is an industry source for social media analysis — appearing on television and penning a column for one of the daily newspapers in Puerto Rico — also said "the only concerns that the government should have is safety and collecting taxes."
"The two can be satisfied if they view sharing economy services such as Uber and Airbnb as legitimate offerings for our tourists and residents. Uber and Airbnb are the tip of the iceberg on the services that will be available in this sharing economy. All industries are ripe for disruption," he said.