Serenade of the Seas docks at Ponce Port, pumps $500K into region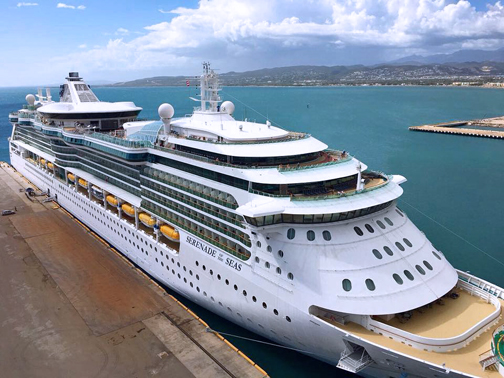 The Serenade of the Seas, a cruise ship run by Royal Caribbean, made its first visit to the Ponce Port Thursday, carrying some 4,000 passengers who were expected to inject some $500,000 to the town and the region, government officials said.
"The arrival of this cruise ship represents an important contribution to the economy of the southern region and Ponce, with the arrival of almost 4,000 people who will spend in goods or services from local businesses," said Department of Economic Development and Commerce Secretary Manuel Laboy.
"It is also a significant milestone that reaffirms that, despite the major challenges brought by Hurricane Maria, Puerto Rico is ready to offer tourists a first-class experience," he said.
"The arrival of the Serenade of the Seas cruise ship to our Ponce Port, is a great achievement. Once again we show that our port has the capacity and experience for tourist vessels," said Ponce Mayor María "Mayita" Meléndez.
"The City of Ponce has a lot to offer. With the arrival of this cruise ship, visitors will know who we are, our culture, traditions, gastronomy and our valuable tourist attractions. At the same time, this visit contributes to Ponce's economic development," she said.
The ship's arrival marks the first of three visits it has on schedule for 2018 and three in 2019. The Serenade of the Seas has a capacity of 3,335 passengers and crew, and will return to the Ponce Port in March and November.
While docked, tourists will be visiting from 8 a.m. to 5 p.m., during which they will be able to experience the island's culture with guided tours of the historic center, city tours, museums, and picnics at the pristine island of Caja de Muerto.