SME Puerto Rico conducts social network brands study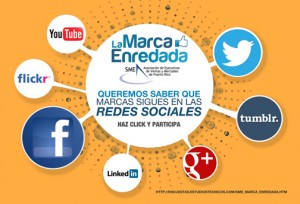 In its bid to continue developing research that impacts Puero Rico's socioeconomic, behavioral and consumer trends, the Sales and Marketing Executives Association is conducting a study entitled: "La Marca Enredada" ("The Webbed Brand") to determine the perception, use and attitudes people have about brands they access and follow on social networks.
The questions for the survey commissioned to the Estudios Técnicos research firm can be found here and must be answered by Puerto Rico residents 18 and older through July 19. Upon completing the survey, they will be in the running to win one of two $150 prizes.
Aside from gaining knowledge of the perception, use and attitudes of Puerto Rico social network users, the study results are also expected to influence the marketing and communication strategies that companies are currently applying to lock down brand loyalty.
The results will be revealed Aug. 16 at an event at the Intercontinental Hotel in Isla Verde.