Sea Star Line embarks on Port of San Juan expansion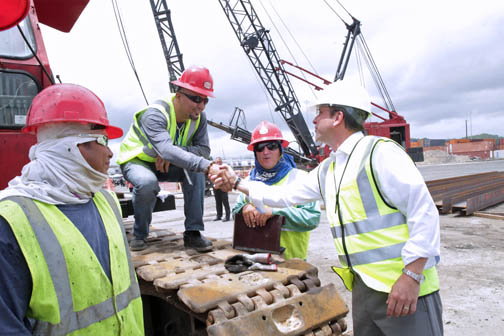 Gov. Alejandro García-Padilla on Wednesday toured the San Juan port zone where marine cargo company Sea Star Line will invest $400 million to integrate two new cargo ships into its service and make terminal improvement to accommodate increased activity.
"Thanks to the commitment of the Sea Star Line shipping company, Puerto Rico is making a fundamental step toward the full recovery of maritime trade disruption caused by the shutdown of Horizon Lines," he said, referring to the decision by Horizon Lines to end its shipping services between the U.S. mainland and Puerto Rico earlier this year.
The company's exit has reportedly represented interruption in the flow of goods into the island, including food and goods that are important to Puerto Rican consumers.
"Throughout this process, companies and importers have had the full support of our government. My government believes in dialogue and forging alliances. The unity of wills is mightier than the challenges we have ahead," he said following the tour for which he was accompanied Port Authority Executive Director, Ingrid Colberg, Sea Star Line President, Tim Nolan, and Eduardo Pagán, general manager of Sea Star Line in Puerto Rico and the Caribbean.
The new ships to be assigned to the Puerto Rico trade route will be powered by liquefied natural gas, representing the first in their class. The vessels are the first new ships to be entirely dedicated to Puerto Rico in 40 years, and have a capacity to accommodate up to 350 refrigerated containers.
The first vessel, Isla Bella, is expected to reach Puerto Rico Oct. 17, 2015, company officials said.
Sea Star Line's expansion is coupled with planned improvements to the company's landing dock company and investments in three new modern cranes to maximize cargo transportation.
"The new Sea Star Line ships will have more than twice the capacity of the ones currently in use, providing additional capacity to our market," Pagán said.
"Also, these improvements on our terminal will allow us to unload and transport additional cargo more efficiently," the executive said.