PR seeks help from stateside power co.'s to restore grid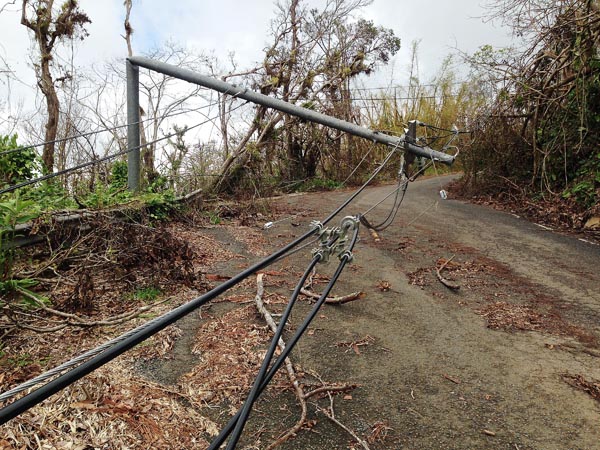 The American Public Power Association (APPA) and the Edison Electric Institute (EEI) received a letter Tuesday from Puerto Rico Electric Power Authority Executive Director Ricardo Ramos requesting assistance in bringing resources to Puerto Rico to support power restoration on the island.
The letter was sent 41 days after Hurricane María knocked out power on the island that is still mostly in the dark. The request follows the cancellation of a $300 million contract with Montana-based Whitefish Energy, which is now under investigation.
"APPA and members of the public power community were pleased to receive today's letter and the request for additional crews and equipment," said APPA President Sue Kelly. "We look forward to working with PREPA, our government partners, and the industry to support the ongoing power restoration process."
"EEI and our member companies welcome the request from PREPA, which now allows our industry on the mainland to fully support the critical power restoration efforts underway in Puerto Rico," said EEI President Tom Kuhn.
"We are already working with our member companies to mobilize crews, equipment, and technical experts in response to today's letter," he said.
"Hurricane Maria caused historic damage to Puerto Rico, and considerable logistical issues remain," said Kelly. "We know that restoring power to Puerto Rico will be challenging. As the letter outlines, extensive portions of the transmission network in Puerto Rico run through rugged, mountainous terrain with little or no road access."
"Much of the infrastructure will need to be rebuilt before power can be restored. While this is not a typical restoration process, we are fully committed to overcoming those challenges and bringing our experience and resources to Puerto Rico," Kelly said.
"EEI looks forward to working with our member companies, APPA and our industry and government partners, and the PREPA team to accelerate the restoration mission and to restore power as quickly and safely as possible to our fellow citizens in Puerto Rico," added Kuhn.
APPA is the voice of nonprofit, community-owned utilities that power 2,000 towns and cities nationwide. APPA represents public power before the federal government to protect the interests of the more than 49 million people that public power utilities serve and the 93,000 people they employ.
Meanwhile, EEI is the association that represents all U.S. investor-owned electric companies. Its members provide electricity for 220 million Americans, and operate in all 50 states and the District of Columbia.
On Tuesday, Whitefish Energy issued a statement confirming it is in discussions with the local government to find the "most constructive way to wind-down our work in Puerto Rico under the terms of our agreement."
"Whitefish Energy agreed that when our work currently underway has been completed, the work of our subcontractors who wish to remain on the island should certainly be allowed to continue under management by PREPA directly or any entity designated to manage and direct future work," Whitefish Energy stated.
"Until that time, Whitefish Energy has agreed to manage the work during the wind-down process," it added. "Our commitment to the people of Puerto Rico means we will use every effort to transition the processes we have built with the PREPA team and to finish tasks at hand, so that the critical repairs made since Oct. 2, that are now coming online, can continue in a safe, orderly fashion, for the sake of the people of Puerto Rico still awaiting power."