Stryker Puerto Rico to pump $46M into 5-year expansion of Arroyo plant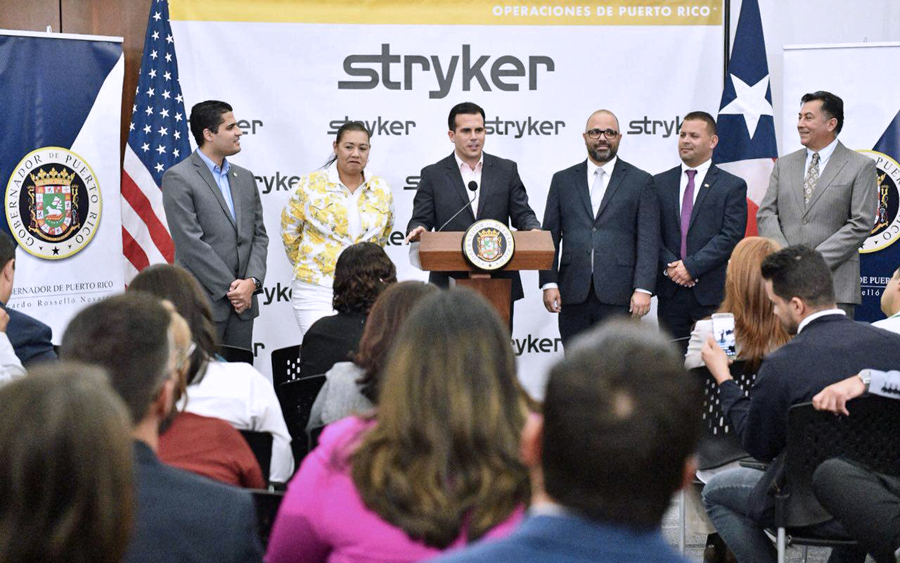 Medical technology company Stryker Puerto Rico will invest $46 million over the next five years to expand its manufacturing capabilities at its facility in Arroyo, Gov. Ricardo Rosselló, along with Economic Development and Commerce Secretary Manuel Laboy, announced.
"We're pleased to announce the expansion of another company that has been established in Puerto Rico for many years now, and that has bet on the local talent as well as the enormous growth possibilities that our Island has to offer," said Roselló.
"We remain at Stryker's disposition to work hand-in-hand with their development here in Arroyo, since their success also translates as success for our local economy," the governor added.
The project includes the manufacturing of new products, improvements to its physical infrastructure and contingency plans, the expansion of various manufacturing areas, the introduction of new technologies, and the development and expansion of its technical capabilities in the operation of the Island, among other needs.
"We're excited about this expansion because it allows us to demonstrate the ability of our talent, our most important asset, to continue to supply the world with high quality medical products, while contributing to the economic development of Puerto Rico," said Carlos Rivera-Vélez, general manager of Stryker Puerto Rico.
Meanwhile, Laboy said "this new expansion is another indication that Puerto Rico is moving forward, despite past and recent events, because we have everything that is necessary to do business that benefits both entrepreneurs, established and growing companies, and our country."
"We're confident that this recent good trend of companies that areexpanding operations and employing more workers will continue to grow," Laboy added. "Our government will continue serving as a facilitator and creating new ways, to make it a reality."
Stryker, which first established its local presence in Las Guásimas Industrial Park in 1988, offers innovative products in orthopedics, medical and surgical, and neurotechnology and spine that help improve patient and hospital outcomes.
The company occupies a 227,000 square-foot building owned by PRIDCO, along with 47 acres of land on its premises.
The Puerto Rico Industrial Development Company approved incentives for infrastructure expansion, growth, and innovation under Act 73, known as the "Economic Incentives for the Development of Puerto Rico," Laboy confirmed.