Stryker CEO predicts growth for Puerto Rico operation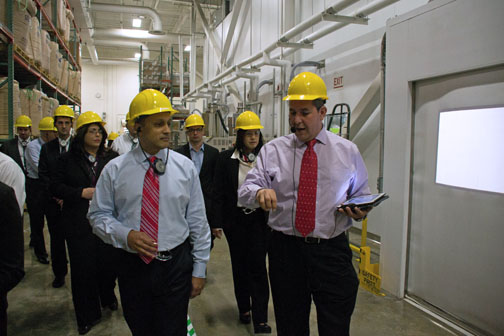 Medical device manufacturer Stryker could be on a path toward growth in Puerto Rico, where it recently marked its silver anniversary with a visit from CEO Kevin Lobo and other high-ranking executives to the Guayama and Arroyo plants.
In the next few years, Stryker, which employs 1,160 people and has been doing business in Puerto Rico for 25 years, will begin manufacturing new products such as surgical instruments that cut and remove tissue, as well as innovative screws, company officials said.
The local plants currently produce multiple high-tech products, which are manufactured only in Puerto Rico. Some of these include: knee, shoulder, hip and lower joint implants, irrigators for different types of surgeries, cement mixers, surgical instruments for minimally invasive surgery, screws to attach fabric to bone, balloons used in kyphoplasty, blood collectors, and medical products for temperature management in patients and for convenience in caring for patients with limited mobility.
"Our facilities in Puerto Rico are the only Stryker operations that manufacture sterile disposable devices and the only facilities making a high volume of plastics injection molding," said Lourdes M. De Cárdenas-Alfonso, Stryker's vice president of Latin American global quality and operations.
"We have achieved impressive results in quality, customer service and financial performance in recent times. This has cemented our relationship with the four Stryker business divisions that we serve, and has opened up various opportunities for expansion of our lines of endoscopic devices and sports medicine in 2014 and 2015," she said.
While she could not say how much the company could be investing in its growth, or the number of jobs it could create down the road, Cárdenas explained that "we're currently exploring several scenarios; we are keen at further enhancing efficiencies and space utilization, so that our first growth phases can be achieved in our existing plant blueprint, with internal re-layouts."
The Michigan-based multinational company is betting on Puerto Rico for a number of reasons, she said.
"It's because of a combination of having a talented and well-educated workforce, very knowledgeable in the science of manufacturing, which places high value on teamwork, as well as the great financial, service and quality results shown by our facilities in recent times, which have cemented the trust of our executive leadership," she said.
"It also has to do with increased efficiencies, our local manufacturing infrastructure of suppliers, services, transportation and IT, and the support from the Puerto Rico Industrial Development Company," she concluded.