Treasury Secretary leaves several projects pending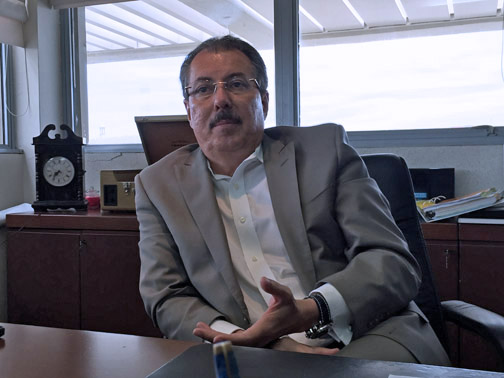 With a little more than two months left to this administration's four-year term, Treasury Secretary Juan Zaragoza said there are projects he would have liked to have seen through, including a reclassification of agency employees to improve their salaries.
"I would have liked to have done justice to Treasury employees, who are the third-worst paid in government," he said, after teachers and law enforcement agents. "I believe the level of motivation among employees is pretty high, because Treasury has regained its luster."
The agency head said Treasury's very public efforts to get businesses to pay their taxes, mostly as a result of what he called "psychological warfare" through some 150 embargoes carried out in the past year, has resulted in an increased interest from employees.
"They're super excited, but that doesn't pay the bills. A reclassification wouldn't have taken a long time, but I didn't get approval for it," Zaragoza said, noting that had he gotten the go-ahead, he would have cut costs elsewhere in the agency so that improving salaries "wouldn't have cost a dime."
Meanwhile, Zaragoza said there are two initiatives already underway that will need continuity in coming years — the Unified Internal Revenue System (known as SURI by its initials in Spanish), which is already up and running, but will take about three years to be fully operational; and the centralized government accounting Microsoft Dynamics platform.
"Contractors are concerned because there's a history in government that a contract is canceled and given to someone else when a new administration comes in. There are still people out there who lost these procurement processes floating around, hoping that when the new government comes in, heads will roll," Zaragoza said.
The government official expressed confidence that under the Financial Oversight and Management Board for Puerto Rico's watch, those types of transactions would be avoided.
"Treasury is fundamental for the island's recovery and those two technology projects are key for the government," he said.
Zaragoza, who has been particularly outspoken during his two-year tenure, said during an interview that he would be willing to remain in his post if he were asked by the new administration that will take over in January.
"I think it would be unlikely because not everybody is Gov. Alejandro García-Padilla in the sense that someone else would have already fired me for half of the things I've done," he said.
"The governor's office [Fortaleza] has never told me to retract on something I've said," Zaragoza said, just a few hours before the governor negated his statements about asking the Board to put Treasury in receivership, as this media outlet reported.