Triple-S Salud launches mobile app for members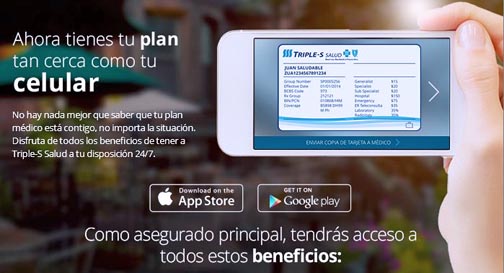 Puerto Rican health insurance provider Triple-S announced Thursday the availability of a new mobile "app" that allows members from the commercial segment to have a digital version of their card, access information about their benefits and co-payments, and generate a certificate of coverage using a mobile phone and without needing an intermediary.
"By developing this mobile app we seek to facilitate our members' access to information and functions that will help them receive the health care they need, no matter the time or day," said Pablo Almodóvar-Scalley, president of Triple-S Salud.
The app is the first on the island that allows having a digital version of the member's ID card, he said.
It also offers the ability to generate a certificate for coverage, access to information about benefits and co-payments, and access to the medical directory, among other features.
The digital card functionality is available for all components of the family group through the main policyholder's account or login. The executive also said Triple-S is already working on a second phase to add more functions to the app.
To use the app, members should download it from the app stores and then register at www.ssspr.com. The app is available for both iPhone and Android smartphones.