Turabo University receives $800K grant to open exports institute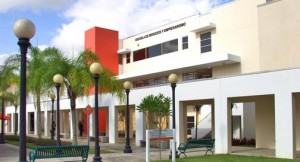 The U.S. Department of Commerce's Economic Development Administration has awarded an $800,000 grant to Turabo University to establish the Exports and Economic Development Institute at the college, officials said Wednesday.
Marcelino Rivera López, dean of the Turabo University's School of Business and Entrepreneurship, said through the initiative, the school will provide technical assistance to entrepreneurs to develop the export capacity of local small and mid-sized enterprises through access to the benefits provided by the Dominican Republic and Central America Free Trade Agreement.
"With this proposal we seek for Puerto Rico to benefit from this agreement by increasing its export activity to the Central American region," Rivera López said.
"That way, the island's export capacity is developed through the provision of technical assistance to entrepreneurs, developing a business model for exports — through applied research — and the establishment of a virtual space for the business community that will contain data, publications and reports related to CAFTA," the academic added.
As part of the project, the school will establish a technical assistance program that includes free workshops, as well as develop support materials.
Among the topics to be discussed during the workshops are: mechanisms to finance exports; development of market research for product sales; analysis of the competition in the export market; developing a business plan; establishing strategic alliances; and identifying product certifications as well as international regulations and standards.
This proposal, which joins other projects the school is carrying out with the mission of actively participating in the island's economic development, provides for the participation of entrepreneurs who wish to receive technical training to export their products, the school said.
The Turabo University's School of Business and Entrepreneurship is the first in Puerto Rico to receive accreditation from the Association to Advance Collegiate Schools of Business International, one of the oldest and most prestigious accrediting organizations in the world.