United, American unveil mobile 'apps'
In keeping with the unwavering growth of smartphone and tablet computer usage worldwide, United Airlines, Continental and American Airlines recently unveiled mobile applications offering passengers one-touch access to their travel information and the option to generate an electronic boarding pass.
Earlier this week, United Airlines introduced a new, full-featured application for iPad, iPhone and iPod touch users that gives United and Continental customers easy access to book reservations, check in, access mobile boarding passes with one touch, get flight status details and manage their MileagePlus and OnePass accounts.
The United app, which also includes a feed of United's latest postings on Twitter, is available for free from the App Store on iPad, iPhone, or iPod touch, or at www.itunes.com/appstore/. Users of the Continental app may download the United app for all their travel needs.
United will soon expand the accessibility of the application to the Android platform and is exploring other smartphone options. In addition, United and Continental customers now have the option to use paperless boarding passes, stored on their cell phones or other web-enabled mobile devices, at 101 airports worldwide, including Luis Muñoz Marín International Airport in Carolina.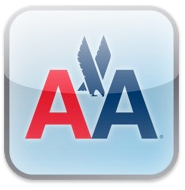 Meanwhile, late last month, American Airlines unveiled a BlackBerry and Windows Phone-friendly version of its app previously released for Android, iPhone, iPad, iPod touch and the Barnes & Noble NOOK Color Reader's Tablet.
American's customers on the go are able to use their mobile devices to create flight status notifications; check flight status and schedules; view personal flight details; check in for flights; access mobile boarding passes; monitor standby status; access AAdvantage accounts and enroll in the program; track AAdvantage elite status progress; and view terminal maps, the carrier said.
All of the features are available for travelers using the LMM aiport.