EPA closes Vieques' Playa Grande beach for investigation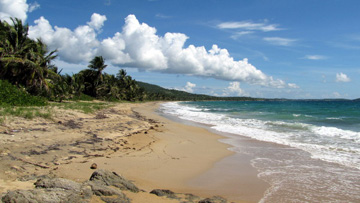 The Environmental Protection Agency said Tuesday it is "closely monitoring" activities related to potential munitions debris spotted in the water off the shore of the Playa Grande beach area of the Vieques National Wildlife Refuge and urged residents and tourists to heed a local beach closing.
The Playa Grande area of the Refuge has been closed since Dec. 7 to protect beachgoers while the Navy investigates what appears to be a 105mm projectile near the shoreline.
Last week, the Navy had removed several pieces of debris from the beach, which included the tail of a spent mortar and a 105 millimeter projectile, a "Bomb Dummy Unit," used in training and 3.5 inch rocket motor, all of which were spent and posed no risk to beachgoers, the EPA said.
"When a projectile was subsequently spotted in the water, the U.S. Fish and Wildlife Service closed the beach as a precaution until a more thorough evaluation can be conducted. That investigation is ongoing," the agency noted.
The beach will remain closed until the investigation is completed. The U.S Fish and Wildlife Service has closed the road to the beach. In 2005, the EPA added portions of Vieques to the Superfund National Priorities List.