Vitrina Solidaria opens new El Yunque Emprende business program cycle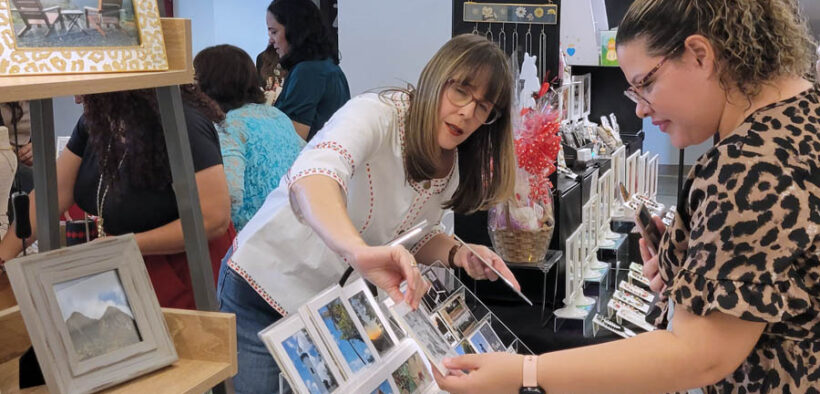 Owners of small or medium-sized businesses in the eastern region of Puerto Rico that focus on gastronomy, local production, circular economy or sustainable tourism can participate in an opportunity to improve their businesses, launch new projects and take part in exposure activities, announced Raquel Skerrett-Escalera, CEO of the Vitrina Solidaria accelerator.
Skerrett-Escalera stated that Vitrina Solidaria, which focuses on social entrepreneurship, has opened the third cycle of its El Yunque Emprende Acceleration Program. The program offers 64 hours of business-related training, 32 hours of complementary practice and 650 hours of personalized coaching and mentorship tailored to participants' needs.
Additionally, entrepreneurs can participate in initiatives to showcase their products or services, such as pop-up markets or Vitrina sales points.
"We know that the eastern region has many businesses in a privileged area with coastlines and mountains," Skerrett-Escalera noted. "We want to support participants in improving their business prospects and expanding into new areas of production or services, so they can grow and contribute to more jobs and economic activity."
"While an increase in the number of tourists implies economic growth, it doesn't automatically translate into comprehensive economic development," Keenan Adams, supervisor of the El Yunque National Forest, said. "Often, only a few select companies reap the benefits, leaving communities to deal with the challenges of increased tourism."
"Economic development," he continued, "happens when local communities and small businesses can genuinely and equitably access that growth. That's why our alliance with Vitrina Solidaria has empowered more than 222 boot camp graduates and 34 new enrollees in the El Yunque program since 2017, bridging the gap between growth and sustainable economic development. I invite you to be a part of our program and contribute to the change we envision for the municipalities in the El Yunque region."
The training will be available in-person (in Juncos and Fajardo) virtually and in hybrid formats. Program applicants must have businesses established in one of the 10 municipalities in the El Yunque National Forest region: Canóvanas, Loíza, Río Grande, Luquillo, Fajardo, Ceiba, Naguabo, Humacao, Las Piedras or Juncos.
The application deadline is Jan. 19, with training beginning on Feb. 1 for Group A (in Juncos) and March 5 for Group B (in Fajardo).
Celebrating entrepreneurial achievement
Vitrina Solidaria acknowledged the accomplishments of 23 entrepreneurs who completed the second cycle of the accelerator program, which covered 16 business training areas related to gastronomy, local production, circular economy and sustainable tourism.
"Our satisfaction is immense when we witness the maturation process of these business ideas or projects of our entrepreneurs, and we are extremely proud of the results that participants have achieved during the program," Skerrett-Escalera said.
The training included legal aspects, permits, financing, product marketing, exports, customer service and marketing (social media, branding and elevator pitch), personal finance management, circular and solidarity economy, business canvas, annual action plan, health and well-being for entrepreneurs, and gastronomy.
Four entrepreneurs received artisan certifications through the program.
The participating entrepreneurs are involved in manufacturing reusable cloth sanitary towels, offering Espíritu Santo River transportation, designing hiking routes, operating Airbnb and Airbnb Wellness, notebook binding, selling skincare products and handmade soaps, conducting cooking workshops, food truck-related businesses, pastry making, producing costume jewelry, crafting wooden artwork, and selling postcards of Puerto Rico.
The participating businesses in the second El Yunque Emprende cycle were: Caroma Jabones Artesanales, Meradaki, La Dieta Pa'Cuando, PR Landscape, Finca KI, Delicias 3EJKG, Motor Agua Sport, Trilos, MaRod Design, Michell Skin Care, TUYO, Pastry Boutique, Your Puerto Rican Buen Camino Experience, 45 Aprons, Canela Pastelería Artesanal, Romikachi, Libretaki, Belleza Dajovi, Stroquies, Icaro, La Zebra Rosa, Delicias del Yunque, and Bella Mía Gifts.
"Through Vitrina Solidaria's acceleration program, I have learned to manage my time better, handle social media and digital commerce better, and one of my biggest achievements with them has been becoming certified as an artisan," said Sonia Carrasquillo-Gómez, owner of Belleza Dajovi.
Bianca Pacheco-Bauzó, owner of La Zebra Rosa, noted: "Vitrina Solidaria is the helping hand that provided order and guidance to my business. They gave us the necessary tools for our businesses to be successful."
Gloryma Nazario-Daumont, owner of PR Landscape, mentioned creating alliances and collaborations with other participants through Vitrina Solidaria, which also aided her in better financial control.
"Thanks to Vitrina Solidaria, my perspective on business has changed," said María del Carmen Rodríguez-Figueroa, owner of MaRod Design.