Ad agency Euro RSCG becomes Havas Worldwide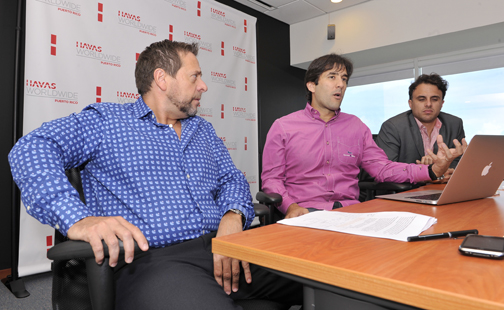 Seeking to present a more integrated offering that drives greater efficiency, consistency and value for its customers, advertising agency Havas announced the rebranding of its EURO RSCG division to Havas Worldwide.
The change includes creating Havas Digital and investing $500,000 to turn the Puerto Rico office into the new division's Caribbean hub, executives told News is my Business.
"Havas has implemented a unique business model with a clear and simple structure that provides flexible digital marketing for all its activities and organizations," said Carlos Thompson, general manager of Havas Puerto Rico. "Customers are looking for truly unified agency partners that work seamlessly across media, in creative and digital."
"The advertising industry often doesn't make it easy for customers who struggle daily to cope with a multitude of networks. With a unique branding structure we want to simplify this approach," he said.
For top Havas executives in the Caribbean region, the focus on the digital area will gain more strength with the change.
"A decade ago, we decided to be the first major holding company in the area of communications that placed the digital area in the center of all our creative agencies," said José Grateraux, CEO of Havas Worldwide Caribe. "Once again we're pioneers through the integration of creative, digital and media to maximize collaboration and offer our customers a powerful combination of creative excellence, agility, scale and innovation."
That effort includes putting Puerto Rico in charge of Caribbean digital media efforts for the region that includes the Dominican Republic. The two islands command a combined 41 percent of the region's 11 million Internet users, Grateraux said.
While the executive refrained from revealing the other countries that would be served out of Puerto Rico, he mentioned that there are several major companies doing business in the region already lined up for multimedia campaigns.
To that end, the multinational plans to develop a digital division before the end of the year from which to develop additional campaigns for both traditional advertising and exclusively for social networks and the Internet with a strong emphasis on the quality of the content.
Puerto Rico to integrate 'intellectual capital'
"We see the Puerto Rican market as one in which we will integrate all the intellectual capital of the region and from here contemplate entering new markets," said Mario Davalos, co-CEO of Havas Caribe. "We'll gather the best local and regional talent so that Puerto Rico becomes a powerful platform for the Caribbean digital division."
"To do this, we'll invest in the equipment and resources necessary to ensure a formula that places the island in an important place in the digital world," he added.
That new focus will only continue to fuel the local advertising agency's bottom line, which Thompson said has not suffered despite the economic crisis.
"We've been pretty aggressive and last year grew by 15 percent. This year's billing is on track to increase by 30 percent versus last year as a result of a strong internal push to organically grow our existing clients and attract new ones," Thompson said.
Havas Puerto Rico's client roster includes BBVA, Reckitt Benckiser, FransGlobal, Carlos Albizu University, M&M Mars, L'Ebel, Kmart and Pep Boys.