Ad execs: 'Puerto Rico's creativity must go global'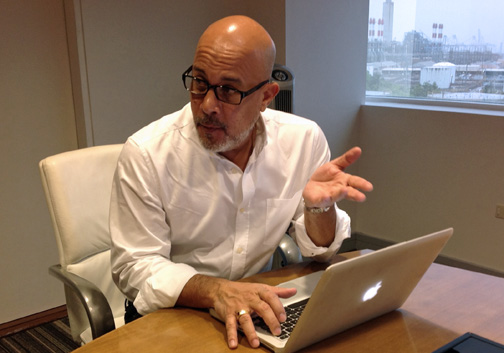 Puerto Rico's performance at this year's Cannes Lions International Festival of Creativity — where it won a record 12 awards for locally produced campaigns — has set the bar high for the advertising industry, which is now looking to position the island at the forefront of global creativity.
Kike Rentas, creative director at DDB Latina advertising agency — which won three awards, including the competition's highest recognition, the Gold Lion — said this year's outcome "definitely elevates Puerto Rico's creative class, which has positioned the island as a force at the international level after succeeding in this test of the best in advertising."
"Puerto Rico was very well represented by the work submitted and by the important list of finalists and awards," he said. "It's an indicator of how Puerto Rico is a factor in this conversation about global creativity."
DDB Latina nabbed the Gold Lion in the Outdoor category for the "Last Meal" campaign created for Amnesty International. The agency also received a Silver Lion in the Public Relations category for the initiative "The Morning After Pillow," for Unilever's Axe.
J. Walter Thompson San Juan took three Silver and two Bronze Lions for its executions for Heineken, PepsiCo and Banco Popular, while Starcom MediaVest Group San Juan took a Silver and a Bronze Lion for its efforts for the government's "Follow2Unfollow" social media campaign.
Results to boost industry
Rentas said this year's results would translate into better business for the winning agencies and the industry as a whole.
"Generally speaking, our industry is going through a tough economic period, so this type of thing gives our clients a lot of confidence to continue investing and betting on our talent," Rentas said. "It translates into investment in the industry, and it stimulates the young talent that is embarking on a career in advertising who see that if they're good in Puerto Rico, they can be good anywhere."
That said, Rentas said the goal is to turn Puerto Rico into a regional center for creativity and excellence, which would be another shot in the arm for the advertising sector.
'Boricua' judge shares experience
Puerto Rico's presence at this year's Cannes festival was not only felt through the number of awards won, but because for the first time since its inception, the competition selected a local advertising veteran to its panel of judges.
Jaime Rosado, vice president and regional creative director for Puerto Rico and the Caribbean for JWT, was part of the "promo and activation" committee responsible for selecting winning pieces that were "designed to create immediate activation and/or offer for the sales of a product or service."
"The jury experience was extremely stressful, yet very rewarding. Being with professionals as culturally different, and in turn identical in the way they approach their profession, makes you understand that, in the end, the world is very small and that our island has to follow that route of immersion into a global economy," said Rosado, describing his experience at the event.
He was part of a panel of judges split into groups of five people of different nationalities and from different continents who had to analyze some 3,000 participating campaigns. After reviewing the entries, they had to select the finalists and subsequently, the winners.
Rosado explained that he had to abstain from judging pieces submitted by his employer, to avoid "contaminating the process."
Regarding Puerto Rico's performance in the category he judged, Rosado noted it was "excellent and proved that it's an area within advertising that we understand very well and in which we can be an international force."
This year's wins placed Puerto Rico as "one of the most effective [countries] in Cannes from Latin America and shows that what we accomplished last year wasn't due to luck, but because we're consistently improving," Rosado said.
The dozen awards Puerto Rico won will likely give the island a better chance to have more than one judge included in next year's competition — something local advertising executives are shooting for, Rentas said.