Aerostar pumps $800M into LMM Airport in 2 years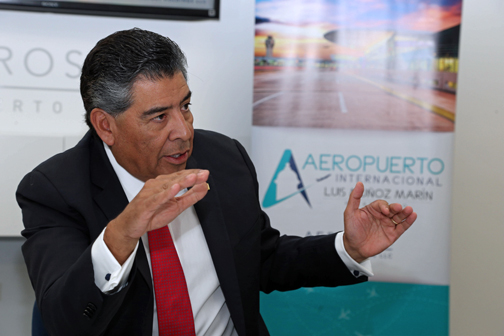 In its first two years as the operator of the Luis Muñoz Marín International Airport, Aerostar Airport Holdings has pumped $800 million into the facility that is already showing an improved and more modern look and feel, and saw a 3 percent increase in passenger traffic last year.
During a meeting with members of the media, Aerostar CEO Agustín Arellano offered a rundown of the projects completed since the company took over the management of the LMM in February 2013.
The list includes the $54 million overhaul of the 230,000 square-foot Terminal B and C, the installation of a new $21.7 million documented baggage system — which transports bags at a rate of 2,700 pieces per hour from the airline counters to the point where it is collected and dropped into the aircraft — the acquisition of 22 jet bridges at $1 million a piece, and the construction of a new passenger and carry-on checkpoint.
On the operations side, Aerostar also installed a new safety management system that, among other things, detects and mitigates risks at the airport; worked with airlines to collect foreign object debris from the airport that could pose threats; and handled more than 20,000 work and repair orders for issues throughout the facility, among other things.
In short, the private management firm has kept up its side of the deal as laid out in the public-private partnership agreement signed with the government to take over the operation of Puerto Rico's main airport hub, he said.
Increased foot traffic
In 2013, LMM saw 8.3 million passengers use the facility, a number that jumped by 3 percent to 8.5 million last year, Arellano said.
The increased foot traffic is already seeing, and likely benefiting from, new airport amenities, including new retail outlets, food and beverage establishments, as well as other services and car rental facilities.
The airport's new commercial offer includes the opening of a new VIP lounge, several stores such as Pandora, Folli Follie and Desigual, the first 11,839 square-foot Dufry Walk-Through shop and an increased variety of food and drink options, including Casa Ávila and Viena Snacks.
Up next, Aerostar plans to invest another $200 million in improvements, which include partially close off and remodel LMM's Terminal C and relocate airlines from Terminal D to new areas. The company also plans to recondition baggage claims areas and continue putting up signage inside terminals.
It will undertake the repaving of landing strip 8/26 and the remodeling of the areas identified for international flight arrivals, as well as relocate the U.S. Department of Agriculture's inspection points.