Aerostar to build $5M bridge connecting LMM's parking to Terminal A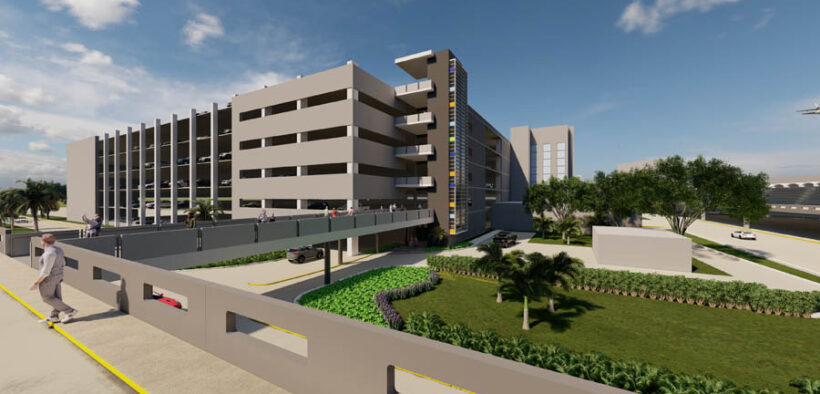 Aerostar, the operator of Puerto Rico's Luis Muñoz Marín International Airport (SJU), has announced the start of a project to construct a pedestrian bridge linking the facility's multilevel parking lot to terminal A, at a cost of $5 million.
The project is expected to begin between December and early 2024 and is expected to be completed in about a year.
Aerostar President Jorge Hernández said that the design and permitting phase, which precedes the construction, is in its final stages.
"More than 3 million people, including travelers and visitors, pass each year through terminal A, which houses the JetBlue facilities, among other airlines. Passengers who travel through this terminal will be able to use the pedestrian bridge that will connect them directly to these airport facilities," he said. "Parking users will [take less] time to get from one place to another and will be able to move with their suitcases and luggage with greater comfort."
The construction of the bridge had been under consideration for several years but hadn't materialized for various reasons, he said. The estimated initial cost in 2014 was about $600,000. As time passed, the project increased in scope and grew to exceed $4.8 million.
The bridge will link different levels of the multi-story parking structure and Terminal A, utilizing elevators. The design mirrors the existing bridge that connects to Terminal B.
To ensure convenience for passengers, the bridge will incorporate features like cross ventilation, spacious lobbies and lighting to ensure safety across all levels, he said.
The design, materials and construction methods meet "all provisions of the most rigorous and modern building codes, both at the state and federal levels," Hernández said.
He added that, to minimize disruption to the airport's regular operations during construction, the bridge will be assembled using prefabricated concrete sections, or slabs, to speed up the process and mitigate the impact on passengers and operations.